Bond Traders Are at Risk of Interpreting Powell's Shift Too Dovishly
(Bloomberg) -- If Federal Reserve Chairman Jerome Powell meant to walk back a misstatement from last month, he may not have meant to walk it quite this far. The U.S. rates market is now hinting at a halt in tightening in 2019 and some strategists believe that traders are ill-positioned for increases.
At one point on Wednesday traders were pricing in slightly less than a quarter point hike in 2019 after Powell said in a speech that the fed funds rate was "just below" neutral. That contrasts with his suggestion on Oct. 3 that rates were probably a "long way" from that point.
With nothing currently priced for 2020, markets are now effectively envisaging a one-and-done move next year, following an anticipated hike next month. That looks like too much of a pullback for some observers, who see the Fed revising its projections lower in December to a median of two hikes for 2019, from the current three.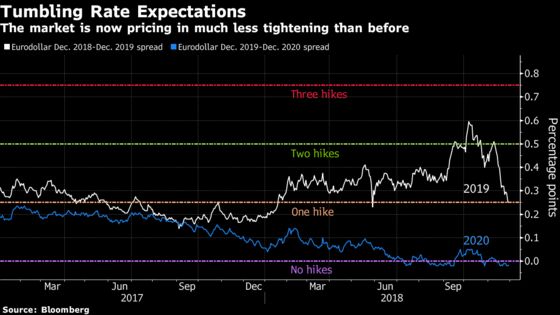 Powell's comments came as speculation was already mounting that the U.S. central bank might considering pausing its hiking cycle amid slowing global growth and increased market volatility.
Eurodollar trading volumes on the December 2019 futures contract were about double the 10-day average on Wednesday. Traders on Wednesday reduced the amount of tightening priced in for 2019 to as little as 24 basis points. That was the least since May and extended a move this month that's seen expectations for rate increases next year fall by more than half.
The move down is an overreaction, according to Societe Generale economist Omair Sharif. He expects the Fed chairman was simply correcting a "rookie mistake" from last month, which at the time drove a spike in Treasury yields and a stock-market sell-off.
"I don't think the recent 'dovish' Fed chatter suggests that they will hold off hiking unless the data deteriorate meaningfully," Sharif wrote. "This repricing seems a bit extreme."
SocGen sees the Fed delivering a hike in December -- as is widely expected -- and again in March and June, before pausing. That view has gained traction among some analysts who expect the FOMC's updated projections to be revised lower to a median forecast of just two increases next year. A median of just one would be a long shot, in Sharif's view.
Nevertheless, the dovish interpretation of Powell's comments was traded across financial markets on Wednesday. A rally in Treasuries took the two-year yield down as much as four basis points, to a session low of 2.79 percent. The Bloomberg dollar index dropped as much as 0.7 percent and the greenback was weaker against all its G-10 peers. Equity investors leapt to the same conclusion on Powell's speech, with the S&P 500 ending the day up more than 2 percent.
Meanwhile, TD Securities rates strategist Gennadiy Goldberg was inclined to fade the dovish response. Markets shouldn't over-interpret Powell's signal on the neutral rate, as that would be to ignore his reflections on an outlook for "continued solid growth, low unemployment, and inflation near 2 percent." In Goldberg's view, this isn't even the groundwork for a pause.
"Powell will be reluctant to provide any sort of thing like that, as his prerogative has been optionality," Goldberg said.