Bond Trader's $2.5 Million Wager Targets 10-Year Yield at 3.6%
(Bloomberg) -- A mystery Treasuries trader is betting big that this week's selloff is just the beginning.
The buyer of put options ponied up $2.5 million for a hedge against a rise in 10-year yields to 3.6 percent, with the wager expiring two days after December's Federal Reserve meeting. The potential windfall is clear to see: The 18,000-lot block trade was bought at 9 ticks, with rates at roughly 3.19 percent. With the yield settling above 3.23 percent Friday in the aftermath of the U.S. payrolls report, the bet was already almost $1 million in the money.
The Thursday wager -- shown as new risk in CME open-interest data -- is evidence that demand is starting to materialize for protection against a significant run-up in yields through year-end. The wager is the first major buying of puts in the January 2019 expiries, and could pave the way for more in the coming days.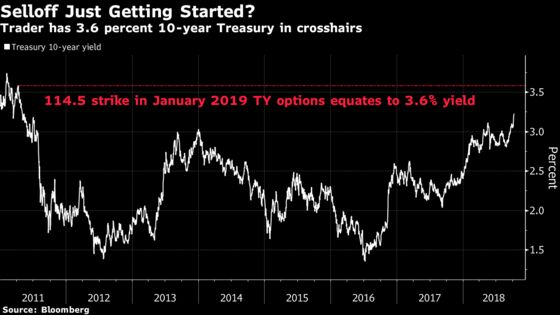 It's not just the January options in play. Downside hedges have also been accumulating in the November puts, targeting a more immediate Treasuries selloff. Open interest Thursday surged by a combined 233,132 lots across strikes. Those holding long positions in the options would mostly be hedging against 10-year yields rising anywhere between 3.3 percent and 3.45 percent. The options expire in just three weeks' time.
This week's bond market shakeup appears to be leaving traders with one choice right now -- find cover for a continued march higher in yields.