ECB Corporate Bond Holdings Dip as Debt Reaches Maturity
(Bloomberg) -- The European Central Bank's corporate-bond purchase program has decreased by 345 million euros ($395 million) in the week to Jan. 25, the largest week-to-week drop in its holdings since the bank capped the size of its program at the end of 2018.
Six bonds dropped off the bank's list of holdings in its latest update to the program, which now totals 177.8 billion euros, according to ECB data analyzed by Bloomberg News. In previous weeks the bank's holdings have shrunk by 96 million euros to 303 million euros, the analysis shows. The maturing bonds include debt of a finance unit of Volkswagen AG and BASF SE.
The bank hasn't added new securities to its corporate debt program so far this month, and has said that "no CSPP primary market participation is foreseen".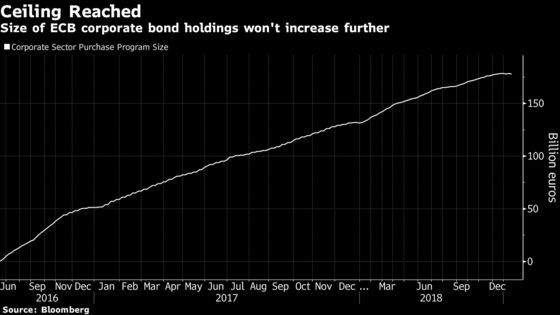 The ECB has stopped expanding its holdings, but had about 834 million euros of maturing bonds, plus amortizations, falling due this month that would need to be reinvested to maintain the size of the portfolio. Last week saw a 9.1 billion-euro rush of corporate bond sales, including once-eligible deals such as Volkswagen Bank GmbH's 2.5 billion-euro offering.
The ECB had previously been a mainstay of Europe's primary bond market, last year buying around a billion euros a month of new issues, according to data compiled by Bloomberg. Those large-scale purchases have been widely blamed for driving down the cost of credit in recent years, particularly in the first half of 2018, when spreads tightened to historic lows.
Investors are watching to see if the central bank will continue to hold onto its securities in Distribuidora Internacional de Alimentacion SA. The Spanish retailer was downgraded again to Caa2 on Jan. 25 and may be cut further. A post-downgrade sale will only be noticed next week given transaction settlement conventions.
The ECB's mandate is to buy only investment-grade corporate bonds though it doesn't have to sell securities if they are downgraded to junk. But, and as may have happened with its holdings of notes issued by Steinhoff International Holdings NV a year ago, there may be a point after which it chooses to offload its holdings.