European Recovery Bet Endorsed by Goldman's Bond, Euro Calls
(Bloomberg) -- Strategists are growing more positive on the euro while souring on German government bonds, reflecting expectations that a faster pace of vaccine rollouts will lift the European Central Bank's outlook for the economy.
Ahead of the ECB's rate decision on Thursday, Goldman Sachs Group Inc. strategists recommend investors sell 30-year bunds outright, saying the central bank is less likely to increase its bond purchases. They also raised their three-month euro forecast to $1.25 from $1.21. European debt markets took heed, falling across the board on Monday.
With Europe finally getting to grips with its vaccine programs, optimism that economic reopenings are close at hand is rippling across the euro and the region's bonds and stocks. While benchmark German 10-year yields' 35-basis-point advance this year is only about half that of Treasuries, there's growing confidence that they can catch up given a renewed drive by the European Union to vaccinate the bulk of its population within a few months.
The "ECB is on course to upgrade its outlook gradually, implicitly signaling tolerance for higher yields," Goldman Sachs' George Cole wrote in a recent client note.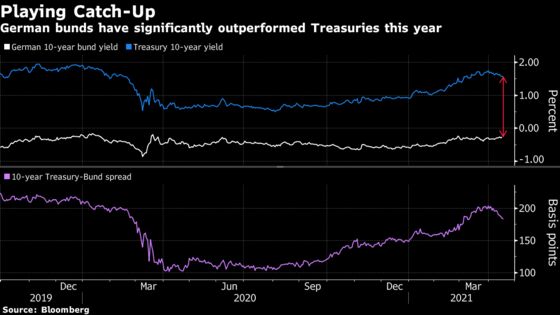 Investors and strategists are increasingly placing bets on Europe's recovery through the rates market.
Citigroup Inc. strategists see German yields rising to minus 0.15% this quarter from minus 0.22% currently. BNP Paribas SA, Pictet Wealth Management and Manulife Investment predict German bond yields will turn positive by December for the first time in two years. Meanwhile, Barclays Plc strategists prefer to go short on European rates via interest-rate swaps.
French 30-year yields climbed as much as three basis points to 0.87%, their highest level in a year. Italian 10-year bonds also tumbled, with rates rising as much as six basis points to 0.80%, while similar-dated German yields rose four basis points.
Bullish sentiment is also growing in the euro, which climbed above $1.20 to a six-week high on Monday, following a rocky start to 2021.
Those gains were driven partly by news that the EU will get 100 million additional vaccine doses from Pfizer Inc. and BioNTech SE. Charles Diebel, a money manager at Mediolanum, says the common currency could reach $1.25 by year-end.
Read More:
ECB PREVIEW: Lagarde Faces Tightrope Amid Caution and Optimism
Strategists Brace for Yield Liftoff in Europe: EU Rates Roundup
Markets' optimism will be tested by this week's central bank decision. While a full assessment of the pace of ECB asset purchases won't come until June, the tone of this week's press conference may offer hints on the debate to come, according to Bloomberg Economics.
A "mini taper-tantrum" could emerge into the June policy decision if the central bank fails to forcefully reaffirm its commitment to easy monetary conditions this week, according to Ralf Preusser, Bank of America Corp.'s global head of rates strategy.
Preusser, who said the ECB's communication strategy is confusing investors, expects economic data to improve and prefers hedging for a hawkish surprise via a short position in 30-year real rates.
Beyond the ECB, a likely pickup in European inflation expectations will support higher yields, according to NatWest Markets strategist Giles Gale.
Longer-maturity yields are most susceptible to being pulled up by any rise in yields elsewhere, said Gale, adding that the ECB is likely to have a limited desire to contain long-end rates. NatWest recommends going short 30-year bunds versus Treasuries.