Bond Investors Risk Climate-Change Hit to Economic Growth
(Bloomberg) -- Bond buyers need to start factoring global warming into investment decisions as countries with the highest risk to climate change could see more than a fifth of their economic output wiped out by 2050, according to an analysis by index provider FTSE Russell.
The U.S. is projected to lose 20% of its per-capita gross domestic product by 2050 in a worse-case scenario, with nations closer to the equator or with high-carbon economies even more vulnerable, according to the report published Wednesday. It forecast Malaysia would see the worst economic hit at 31%.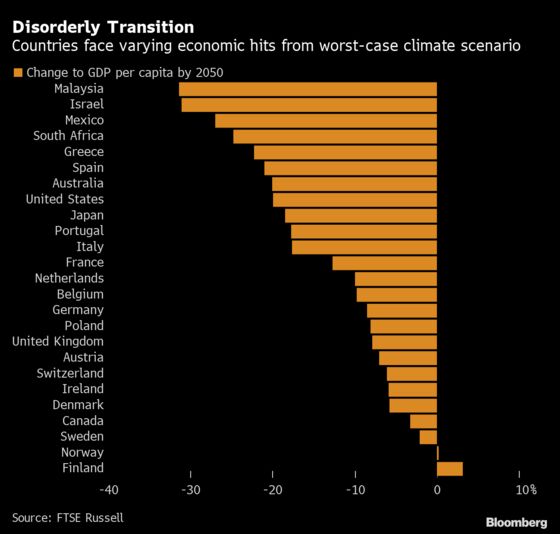 The projections, based on trends of greenhouse-gas emissions and countries' mitigation efforts, show the risk for investors of long-term bets on sovereign bonds. Many governments have been taking advantage of low borrowing costs to issue such debt this year as they finance a recovery from the pandemic.
"These results confirm that investors should take into account climate-change consequences very seriously," researchers Nicolas Lancesseur and Thomas Lorans said in the report. "When assessing risk, it is generally a reasonable approach to consider the more pessimistic scenarios. Furthermore, these hypotheses are not so far from current trends."
Bond markets have been adapting to the threat of climate change, most notably through a record surge in issuance of green bonds that fund environmental projects. Progress has been slower in quantifying the climate risks to sovereign issuers, a key question given many bonds won't mature for decades -- a timescale where environmental models become increasingly uncertain.
The study provides estimates of climate change risks for the 26 constituents of the FTSE World Government Bond Index.