Investors Fear Italian Populists More Than Putin's Russia
(Bloomberg) -- What's scarier: Vladimir Putin's standoff with the U.S. or a group of Italian populists threatening fiscal profligacy with scant regard for European Union rules?
The verdict from the bond market is Italian populists. The cost of insuring debt of the southern European nation through credit-default swaps jumped to a seven-month high of 139 basis points on Tuesday, outpacing the risk premium for Russian debt, as traders fret over the coalition's legislative agenda.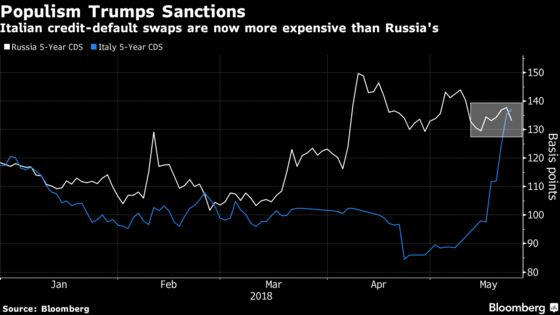 It's a sharp turnaround from a month ago when Italian CDS spreads dropped to 85 basis points, a level rarely seen since the European debt crisis. Russian premiums surged in April to the highest level since September as America hit companies and individuals with a fresh round of sanctions.
While U.S. penalties have forced the oil-rich nation to cut borrowing, making its debt more attractive in the long run, Italy's populist coalition government is threatening to boost spending in defiance of EU budget strictures.
"All these measures will blow out the deficit," Megan Greene, chief economist at Manulife Asset Management, said in a Bloomberg TV interview with Francine Lacqua. "For anybody with a medium- to long-term outlook, Italy is really worrisome."