Better-Rated Spanish Bonds Seen Too Cheap as EU Risks Loom Large
(Bloomberg) -- With attention sharply focused on the risks around Italy's bonds, investors may be ignoring opportunities in better-rated Spain.
The yield premium traders demand to hold Spain's four-year debt over its German peers looks cheap, according to Bank of America Merrill Lynch, while analysts at HSBC Holdings Plc identify Spanish 10-year bonds as being attractive relative to Italy's. Should the European Central Bank introduce new measures, such as another round of targeted longer-term refinancing operations or changes to its asset-purchase program reinvestments, that would help support Spanish debt, said Sphia Salim, a rates strategist at BofAML.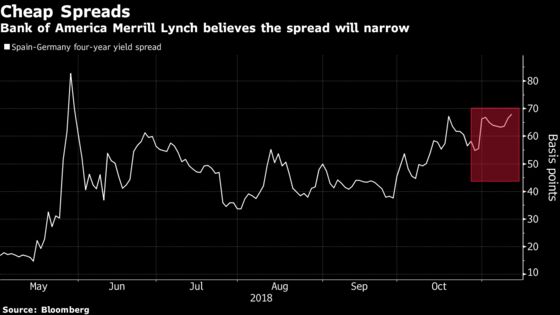 S&P Global Ratings raised Spain's grade one level to A- in March, while Moody's Investor Service increased the country's rating to Baa1 from Baa2 in April and kept the outlook stable. Italian bonds have been roiled amid concerns surrounding the populist government's budget deficit for next year. S&P affirmed Italy at BBB last month, while Moody's cut the rating to Baa3, stopping short of downgrading the debt to junk.
Spanish bonds will rally "on a recovery in risk assets and talks of supportive ECB measures," Salim said. She recommended buying the nation's debt due in October 2022 against selling similar-maturity German notes at a yield spread of 64 basis points, with a target of 44 basis points and a stop loss at 74 basis points.
Italian 10-year bond yields have jumped more than 140 basis points this year to around 3.46 percent in London Tuesday. Equivalent Spanish yields were close to 1.60 percent, little changed since the end of 2017.
The Treasury in Rome sold a total 5.5 billion euros ($6.2 billion) of debt due in 2021, 2025 and 2038 Tuesday, matching its target. Demand for the longest maturity was lighter than at a previous sale.
"The market is too complacent about the chances of a budget compromise in Italy going smoothly," Chris Attfield, a London-based fixed-income strategist at HSBC, wrote in a client note, adding that Spanish debt was trading cheap compared to its sovereign rating.
HSBC suggested investors buy Spain's debt due in July 2028 versus selling Italy's bond maturing in December 2028, even though the yield on the former was around 185 basis points less than the latter on Tuesday. Attfield said he expects the spread to widen to 210 basis points by year-end.