Republican Midterm Surprise Would Be Painful for Bond Bulls
(Bloomberg) -- Investors bullish on longer-term Treasuries and wagering on a flatter yield curve should be wary if Republicans defy the consensus and retain control of both chambers of Congress in next week's midterm elections.
That's because the term premium, which has served as a catalyst for swings in long-term yields, will rise if Republicans don't lose ground in the Nov. 6 vote. Or so says Roberto Perli at Cornerstone Macro LLC, who sees such an outcome raising the odds of additional government action to bolster economic growth, worsening deficits.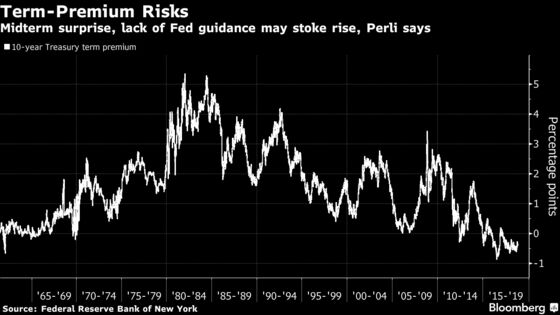 In a note Thursday, Perli flagged this outcome as a key short-term risk to his view that term premium will remain low and the curve become completely flat in about a year, with both 2- and 10-year yields at around 3.375 percent (which also aligns with where he sees traders pricing in the peak for fed funds this cycle).
Looking further out, the biggest potential trigger for a higher term premium for him is the risk that the Federal Reserve may cease giving forward guidance on plans for its policy rate by about mid-2019.