Bond Bears Ready to Pounce With Powell Seen Lagging Behind Curve
(Bloomberg) -- The calm market reaction to the Federal Reserve's taper announcement could well be the eye of a storm as traders refuse to back down from betting that central bankers are too complacent about the threat of out-of-control inflation. 
Money markets are betting the Fed will raise interest rates by around 17 basis points by June, odds that were little changed into and out of this week's meeting. Demand strengthened for downside eurodollar hedges -- a signal investors are eager for protection against more aggressive bets on further rate hikes.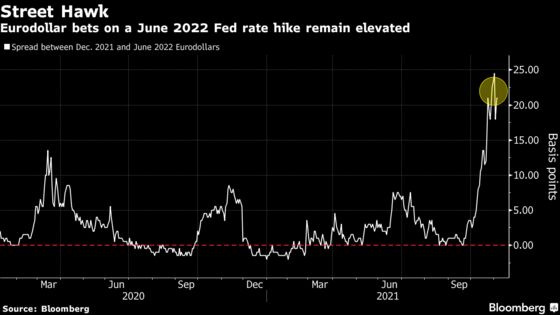 Powell announced a start to a reduction in bond purchases Wednesday, but said officials can be patient on raising interest rates. Rate hike pricing suggests traders refuse to give Powell the benefit of the doubt, raising the risk that upcoming economic data releases will spark renewed bond market volatility.
"The FOMC's insistence that this is still just a temporary shock 'related to the pandemic and the reopening of the economy' looks to be dangerously behind the curve," said Capital Economics' Paul Ashworth of the inflationary spike. "But it could be some considerable time before the Fed is willing to admit that elevated inflation is likely to be more persistent.
While 10-year Treasury yields pulled back on Thursday, trading three basis points lower at 1.57%, they are on course for a two-basis-point climb this week. 
The next clash between impatient traders and policy makers appealing for calm comes as early as Friday, when U.S. labor data are released. Next week has a feast of inflation data for investors to ponder and there is also the not insignificant matter of an imminent decision on Powell's own future as Fed chair.
The Fed's taper announcement came after a week of wild swings in global bond markets that exacerbated this year's selloff -- the worst since 2005. A meltdown in Australian bonds after stronger-than-expected inflation forced a monetary policy change has emboldened traders to question how far they can push the world's central banks.