Bomb Threat Is Latest Twist in Soccer Cup Marred by Violence
(Bloomberg) -- Police evacuated La Bombonera stadium, the legendary home to Argentina's Boca Juniors club, hours before a rally to back the team as it prepares to play crosstown rival River Plate in Madrid for South America's championship.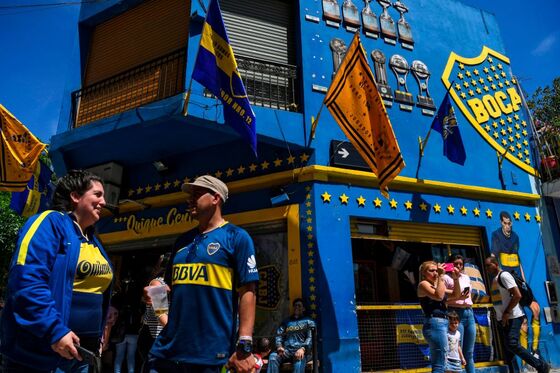 Police were still investigating the threat, La Nacion and Clarin reported, citing police. Fans planned to gather on Tuesday evening near the stadium to wish the players well before their flight to Madrid on Dec. 9.
Already one of soccer's fiercest rivalries, the South American championship has been marred by delays and violence. Argentine President Mauricio Macri called the attacks on players on Nov. 24 a "national embarrassment" and pledged to crack down on hooligans The Argentine league banned fans from visiting teams from attending matches that weren't at their home club years ago. Macri is the former president of Boca.
The game was postponed on Nov. 24 after River fans pelted the bus carrying Boca's players, injuring the captain and breaking the vehicle's windows. The replay was called off again on Nov. 25 after the regional soccer body, Conmebol, said the conditions to play the game weren't existent. Conmebol decided that the game can't be played in Argentina and set the match for Dec. 9. River has said it is against the game being played abroad.