Bolton Calls India's Doval to Express Outrage at Kashmir Attack
(Bloomberg) -- U.S. National Security Adviser John Bolton telephoned Indian counterpart Ajit Doval Friday to express his outrage over the deadly terrorist attack by a Pakistan–based group of Islamic extremists Thursday in Kashmir, according to a statement from India's foreign ministry.
The statement said the two vowed to work together to ensure Pakistan ceases to be a safe haven for terrorist organizations, including Jaish-e-Mohammed, the militant group that claimed responsibility for the car bombing that killed at least 40 people this week.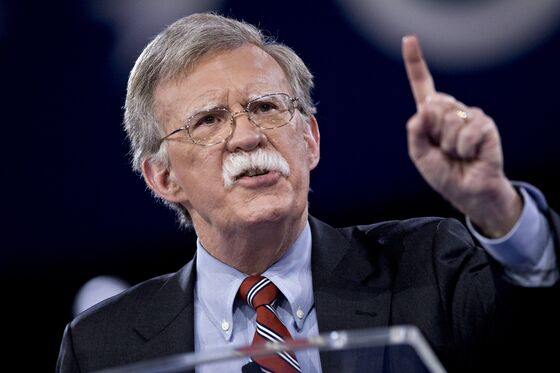 Tension between India and Pakistan escalated after Thursday's attack, with New Delhi stripping its neighbor of most-favored status for trade. Amid rising public outrage, Indian Prime Minister Narendra Modi said he's given a "free hand'' to the country's security forces to decide a response.
Pakistan Finance Minister Asad Umar, speaking in an interview, rejected allegations that Jaish-e-Mohammed was sponsored by Pakistan. He also said the economy wouldn't be affected by losing its privileged trading status with India.
India's foreign secretary, Vijay Gokhale, summoned Pakistani high commissioner Sohail Mahmood to New Delhi on Friday, where he conveyed a "very strong demarche," an Indian government official said Friday on condition of anonymity.
Bolton and Indian National Security Advisor Doval, "resolved to hold Pakistan to account for its obligations under United Nations resolutions and to remove all obstacles to designating" the leader of Jaish-e-Mohammed as a terrorist under a UN Security Council Resolution process, the statement from India's foreign ministry said.
India's home minister Rajnath Singh briefed representatives of political parties on the Kashmir situation on Saturday. All parties resolved to put up a united fight against terror, according to the government statement.
Bolton supported India's right to self-defense against cross-border terrorism, the statement said.