Bolsonaro's Top Priority Would Be Brazil's Economic Revival, Son Says
(Bloomberg) -- Jair Bolsonaro's top priority will be to fix Brazil's battered economy and not spend political capital on other issues if elected president later this month, his son and campaign adviser said in an interview on Wednesday.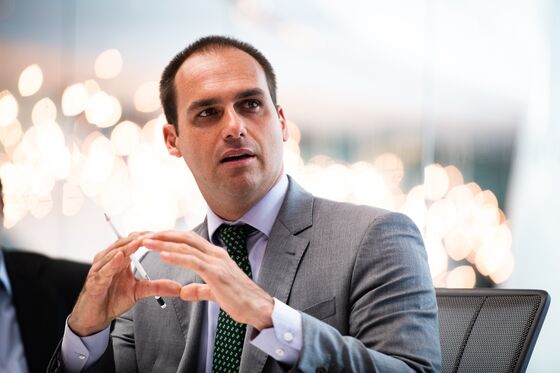 At the top of the list are plans to cap pension spending and simplify an unwieldy tax system that stifles economic growth. "Brazil is a crashing plane, we will be daring," Eduardo Bolsonaro told Bloomberg News in his office in the lower house of Congress.
The far-right candidate, whose party became the second-largest in the lower house last Sunday, could even seek to work with the outgoing administration to get some economic measures approved by the current Congress. Neither of the presidential candidates achieved the majority to be elected in the first round of elections. The two finalists and are headed for a runoff on Oct. 28. The president-elect takes office Jan.1.
"We want to start the year with something already approved, we'll take the first step," he said.
His comments came as Brazil's currency and equity markets returned some of the gains of the past week after Jair Bolsonaro said in a TV interview that there would be limits to the sale of state assets, particularly in the power and oil sectors.
Efforts to forge common ground in Congress to approve economic measures would center on grouping caucuses more than political parties, Eduardo said. A Bolsonaro government would talk to legislators from across the political spectrum, except the most radical parties -- the leftist Workers' Party, the communist PCdoB, and the socialist PSOL party.
Eduardo, a 34 year-old trained lawyer and former federal police officer, also sought to reassure critics who fear Bolsonaro could disregard the rule of law and turn to authoritarian measures to get his ways.
"If we can't alter the constitution by amendment, the country will suffer the consequences, it will turn into a Greece," he said in reference to that country's financial crisis. "I'll do my part. I won't grab a FAL, an M-16 or an AR-15 and shoot the Congress," he said in his office, decorated with pro-gun and pro-life slogans, a bible on the table and miniature statues of Ronald Reagan and Donald Trump.
Asked what his message is to those who fear a military coup, he said: "There's no sense in thinking Jair Bolsonaro would carry out a coup using the Armed Forces. If he had all that power, he'd carry out the coup today. Why go through the elections, with all that stress, exposure?"
A Bolsonaro administration would slash the number of ministries by nearly half to 15, merging portfolios such as finance and planning as well as agriculture and environment. At least two of those -- defense and infrastructure -- will be run by military officials.
Regarding the possibility of Ilan Goldfajn staying on as the current chief of the central bank, Eduardo said that Bolsonaro's campaign held him in high regard and would like him to stay on. "It depends if he wants to accept or not."