BOK to Provide Loans to Insurers, Brokerages Amid Pandemic
(Bloomberg) -- The Bank of Korea said it will offer loans to brokerages and insurers to ease funding strains as the coronavirus pandemic roils markets.
South Korea's central bank has slashed the policy rate to a record low and taken steps in tandem with the government to extend liquidity to financial companies. Yet some non-banking firms are still scrambling to fund daily operations, with one indicator of short-term funding costs jumping recently to near a five-year high.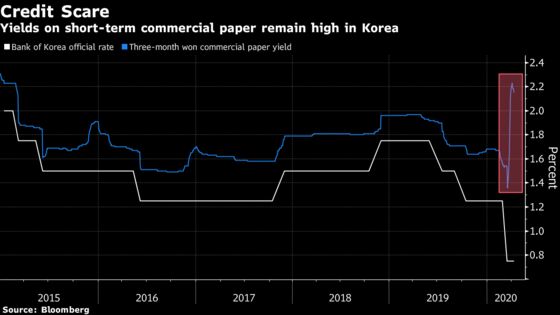 As the epidemic drags on, the BOK has expanded its role as the country's lender of last resort. It has already increased cheap loans to banks, offered a wide range of financial firms unlimited repurchase agreement operations through June and extended dollar loans to banks using a swap line with the Federal Reserve.
But this is the first time the BOK is lending to individual securities firms and insurers. The central bank will offer loans for as long as six months up to a total 10 trillion won, holding high-rated corporate debt as collateral, according to a Thursday statement. The new loan program will start May 4.
The idea is to relieve a credit squeeze for South Korean brokerages and other financial firms as funding through the corporate bond market has become tough amid the coronavirus pandemic. Moody's Investors Service this month placed six South Korean securities firms on review for a ratings downgrade, citing the outbreak's impact on profitability, funding and liquidity.
The BOK's Thursday decision was made at an unscheduled board meeting, likely the bank's last gathering before new board members join Monday.