BOJ to Stand Pat, Flag Recovery Delay Before Vote: Day Guide
(Bloomberg) -- The Bank of Japan is widely expected to leave its stimulus unchanged while signaling more delays in the recovery, just days before Prime Minister Fumio Kishida faces his first national election. 
All but one of 49 economists surveyed by Bloomberg expect the BOJ to stand pat on its negative interest rate and asset buying plans at the end of its meeting Thursday. The bank is also seen cutting its projection for economic growth this fiscal year, while raising the forecast for next year.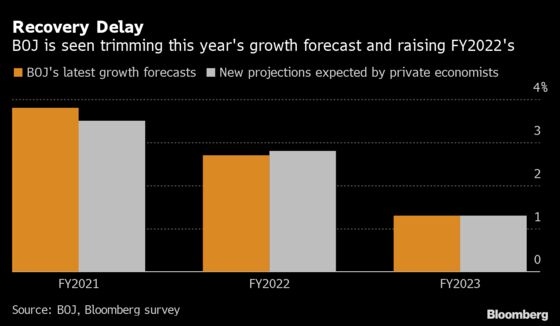 To signal setbacks for Japan's recovery, the BOJ could tweak how it describes the economy or even make a clear cut to its assessment, as it did in January.
Longer term, the bank is likely to keep the basic view that a gradual rebound will continue even after delays caused by Covid's summer resurgence and supply shortages, people familiar with the matter said.  
Read More: BOJ Is Said to Consider Adjusting Growth, Price Forecasts
Still, with Japan's inflation barely above zero, Governor Haruhiko Kuroda will likely stress the need to keep monetary stimulus in place, a contrast with the situation in other economies.
That will keep downward pressure on the yen, which last week fell to near a four-year low against the dollar, amid expectation that the Federal Reserve will announce a pullback in its stimulus next week. 
Polls suggest the ruling party's majority is at risk in Sunday's general election, although its governing coalition is likely to keep control. A poor showing may add pressure on Kishida to boost the size of a spending package he's pledged, but analysts don't see a scenario in which he presses the central bank to change course.
The BOJ typically releases its policy statement and its forecasts around noon with Kuroda's press conference following at 3:30 p.m.
What Bloomberg Economics Says...

"The BOJ may revise down its inflation outlook to account for special factors, such as a change in the base year for the CPI series. But it will be important to see how the BOJ assesses the inflation outlook -- as that would give a better read on its policy stance."

Yuki Masujima, economist 

To read the full report, click here.
With the bank expected to cut its current inflation forecast due to changes in the consumer price basket, the focus will shift to how the BOJ sees global commodity costs feeding into prices next year. FY2022 projections that are already above market consensus could get another bump; the BOJ could also retreat from its view that risks to prices are tilted to the downside
Traders will also watch Kuroda's comments on the yen, after it fell to 114.70 per dollar last week. Back in 2015, the governor signaled anything below 125 would be harmful, but Japan's economy has changed since then and some analysts are already voicing concern over currency weakness
Commodity prices have risen sharply since the BOJ's last meeting, with gas prices at the pump recently hitting a 7-year high. Look for Kuroda's view on how that could hurt consumers, whose spending is needed to support the recovery now that supply chain problems are weighing on exports and production
Japan lifted its state of emergency over the virus this month and Covid cases have fallen dramatically. Look for hints from the bank about whether it plans to end its Covid funding program in March as planned, or extend it for a fourth time