BOJ to Sit Tight as Abe Stimulus Adds to Brighter Outlook: Guide
(Bloomberg) -- The Bank of Japan will likely hold pat at its meeting this week amid signs of a thaw in global trade tensions and the launch of a government stimulus package that have improved the growth outlook.
That's the view of all 45 economists surveyed by Bloomberg ahead of a two-day meeting that starts Wednesday. The central bank has been stressing its readiness to act since summer, but renewed stability in markets, progress in U.S.-China trade talks and the Abe administration's spending package unveiled this month have given it more room to hold off from using its depleted ammunition.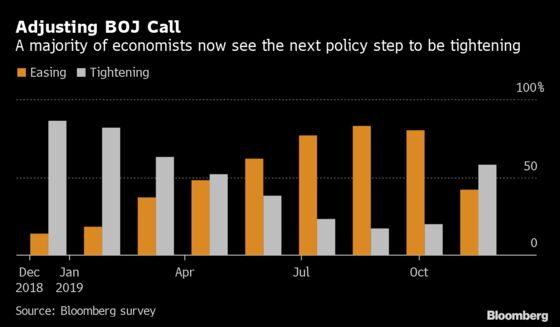 BOJ Governor Haruhiko Kuroda said last week that the outlook for 2020 was relatively bright, adding to the impression that the bank will sit tight for now, barring a surprise deterioration in the economy. Before the BOJ's last meeting in October, 76% of economists had expected easing by April. Now only 9% do.
The challenge for the BOJ will be to acknowledge the positive economic developments without suggesting the board is letting down its guard. Failing to strike that balance could invite the yen to strengthen, especially given Federal Reserve Chairman Jerome Powell's insistence on staying vigilant even as the Fed pauses on rate cuts for now.
The BOJ is expected to release its policy statement around lunchtime. Governor Haruhiko Kuroda will brief the press at 3:30 p.m.
What Bloomberg's Economist Says

"The Bank of Japan heads into its next policy board meeting with significantly less weight on its shoulders...We'll be watching what Governor Haruhiko Kuroda might say about how the central bank can complement the government's push to support growth.."

--Yuki Masujima, economist

Click here to read more
One key focus for investors will be how Kuroda assesses the government's $121 billion fiscal package aimed at helping the economy cope with slumping exports, typhoon damage and the hit to consumers from October's sales tax hike. BOJ officials are said to see a sizable impact from the measures in the fiscal year starting in April.
Any signs the BOJ views the government's package enhancing its own stimulus is likely to be read by investors as an indication the bank now

feels

less pressure to act.
Analysts will also be looking to see how the bank views progress in U.S.-China trade talks after reports of last week's phase-one deal. Kuroda has said rising protectionism was the biggest reason for the BOJ switching to an easing bias in July.
Watch for subtle changes to the bank's economic assessment, even if the overall view doesn't change. The BOJ is likely to raise its assessment of public investment, while downgrading industrial production, which dropped the most since 2011 in October.
Japan's 10-year bond yields rose to 0% last week for the first time since March. If Kuroda suggests he's comfortable with the shape of the yield curve, that could firm up speculation the BOJ is done trimming its bond-buying operations, at least for the time being.
The BOJ may also offer more detail on a plan the bank announced in April to make loans from its holdings of exchange-traded funds. The lending program could improve the liquidity in ETFs, helping mitigate one of the side-effects stemming from the BOJ's protracted easing program.
Pledge to keep interest rates at the present low-level or lower as long as necessary.
A rate of -0.1% on some reserves kept at the bank by financial institutions.
Yield target of about 0% for 10-year Japanese government bonds, with a trading range of about 0.2 percentage point on either side of the mark.
A target of increasing JGB holdings by about 80 trillion yen ($731 billion) a year is now secondary to controlling interest rates. The actual pace of purchases has fallen to well below half that rate.
A guideline to increase holdings of exchange-traded funds by 6 trillion yen a year. Actual purchases vary widely from month to month, depending on

market conditions

.