Kuroda Sits Tight as BOJ Monitors Economy Move Beyond Worst
(Bloomberg) -- Bank of Japan Governor Haruhiko Kuroda said Japan's economy was past the worst, but warned the recovery would be slow, adding that he remains ready to take further action if needed.
His comments came after the BOJ left its interest rates and asset purchases untouched earlier Wednesday and released updated forecasts. The latest projections point to a deeper slump this year, followed by a slightly faster pickup in the next two years, though the recovery will still be drawn out.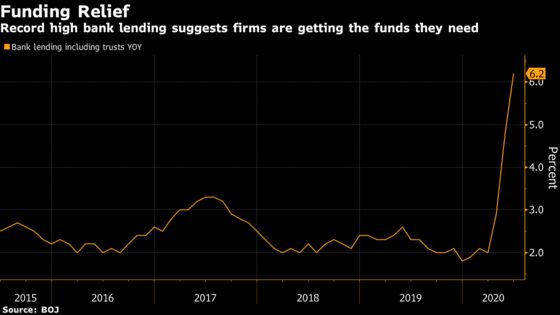 Consumption of goods and production have already bottomed, Kuroda said at a press conference, noting an increase in economic activity following the lifting of Japan's state of emergency.
"But it's a deep trough so while the speed of rebound is fast for now, I'm not optimistic that the pace will continue," he said. "I believe the recovery following that will be gradual."
The latest decision and projections suggest the central bank, like many of its global peers, is digging in for a long holding pattern on policy while it keeps a close eye on virus developments, corporate solvency, unemployment and market stability.
The BOJ has now refrained from further policy action at its two most recent regular meetings, following a flurry of action during the early days of the pandemic when it expanded purchases of corporate bonds and stock funds, pledged to buy as much government debt as needed to keep yields low and introduced two lending programs for struggling companies.
"The economy is far from normalizing. The BOJ is looking to monitor the effectiveness of its current policy measures, as it does what it can," said Nobuyasu Atago, economist at Okasan Securities and a former BOJ official. "The BOJ isn't in a position to be taking additional action like deepening its negative rate, which would cause side effects."
Even though Japan has faced a far less deadly COVID-19 outbreak than in Europe and the U.S., a recent rise in Tokyo cases -- a reported 165 new cases on Wednesday -- pushed the city to raise its warning level, fueling continued caution among policy makers, companies and households over a possible resurgence.
The status of the pandemic beyond Japan's shores also remains a major concern. The country's manufacturers are heavily reliant on demand from markets where the virus outbreak rages on.
One of the main pillars of BOJ support for the economy is its lending to firms struggling amid the crisis.
Last month, the BOJ estimated the size of its two special funding programs at 90 trillion yen ($839 billion). The outstanding amount of loans under the programs was 22.6 trillion yen, according to the central bank last week. Japan's bank lending rose at the fastest pace in almost three decades last month, partly due to those programs.
While bankruptcies rose 6.3% in June from a year earlier and unemployment increased to 2.9% in May, the figures suggest that central bank and government efforts are helping to limit the damage from the crisis. The uptick in the jobless rate is far smaller than the jumps seen in other developed economies.
Kuroda said the BOJ's measures had contributed to those low bankruptcy rates and unemployment. Still, he warned that solvency could become a wider issue for companies down the line. It was the government's responsibility, not the central bank's, to deal with solvency issues, if they emerge, he added.
"Around fall, solvency could be a problem for Japanese companies and the government will have to come up with new economic measures to deal with the effects of the pandemic at that time," said Naomi Muguruma, senior market economist at Mitsubishi UFJ Morgan Stanley Securities. "That's when the BOJ will probably have to take further action, probably by taking on more credit risk, either directly or indirectly."
| Forecast period | Forecast date | Real GDP | CPI(less fresh food) |
| --- | --- | --- | --- |
| Fiscal 2020 | July 2020 | -4.7% | -0.5% |
| | April 2020 | -5.0% to -3.0% | -0.7% to -0.3% |
| Fiscal 2021 | July 2020 | 3.3% | 0.3% |
| | April 2020 | 2.8% to 3.9% | 0.0% to 0.7% |
| Fiscal 2022 | July 2020 | 1.5% | 0.7% |
| | April 2020 | 0.8% to 1.6% | 0.4% to 1.0% |
In terms of growth, the board said it sees the economy shrinking 4.7% in the 12 months through March 2021. In April, it saw a contraction of somewhere between 3% and 5%. The return of the BOJ's pinpoint projections suggests the bank is now a little less uncertain about the path ahead.
On prices, the BOJ said it sees inflation falling 0.5% this year, slightly worse even than the decline projected by private-sector analysts. That bearishness surprised some economists, including Muguruma, who speculated that COVID-19 may have given the BOJ cover to be more realistic in its price projections than it normal is.
The bank said it still sees price growth returning next fiscal year, but didn't project inflation rising anywhere near its 2% target for the foreseeable future -- another signal that Governor Kuroda and his colleagues are unlikely to raise interest rates before his term ends in April 2023.
What Bloomberg's Economist Says

"The BOJ's assessment of the economy and forecasts point to a rough ride in the fiscal year through March 2021, with a rebound to growth next year. That assumes no major setbacks to the economy from a second wave of Covid-19 infections in Japan or overseas."

--Yuki Masujima, economist

Click here to read more.