What to Expect From the BOJ's Emergency Meeting on Friday
(Bloomberg) -- The Bank of Japan is widely expected to leave its main stimulus measures unchanged at an emergency meeting Friday as funding for struggling businesses takes center stage in its discussions.
The BOJ board will meet from 9 a.m. in Tokyo to finalize details of a program to support small companies suffering from the impact of the coronavirus after Governor Haruhiko Kuroda instructed his staff to put a plan together last month.
The program is expected to differ from the direct assistance for firms offered by the Federal Reserve through its Main Street Lending Program and will instead funnel money to companies via commercial banks and other financial institutions.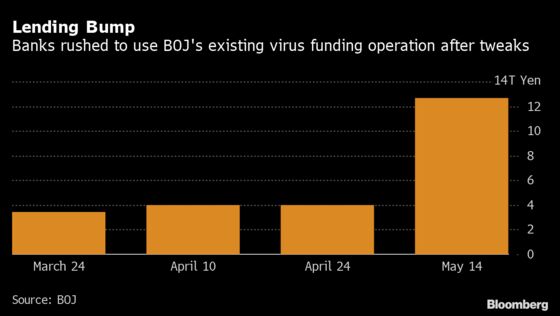 While data are now confirming that Japan is in recession, with economic activity and exports plunging, markets have stabilized and the government has lifted a state of emergency from most parts of the country outside Tokyo. For now, the BOJ's main concern is helping companies stay afloat.
The policy statement could come well before the usual time around noon if the board sees no need for a deeper re-examination of the state of financial markets and the economy. Kuroda may not even hold a press conference if the funding program is the only key matter on the agenda.
That's why BOJ watchers have warned not to build expectations that this emergency meeting will pack the aggressive policy punch of recent unscheduled gatherings by the Fed and European Central Bank.
"This is not a surprising event," Masamichi Adachi, chief Japan economist at UBS Securities, wrote in a note. The new lending program "would be another credit easing measure to counter the damage from COVID-19 on top of the existing operations."
Still, no major policy action hardly means the BOJ is out of the woods. Official data out Friday morning are expected to show key nationwide prices falling for the first time since 2016, fueling concerns over the possible re-emergence of deflation.
What Bloomberg's Economist Says

"The Bank of Japan has speed on its mind -- and that's a good thing for companies suffering from dried-up cash flows and households hit hard in the economic downturn."

Yuki Masujima, economist

Click here to read more.
The BOJ has said its new program will provide banks with free loans, while paying them 0.1% interest on the amount they then use to lend out. Any additional incentive is likely to serve as a positive surprise.
Kuroda will send a strong hint that this meeting is only about the lending program if he doesn't schedule a press conference

afterwards

.
After easing further at the past two meetings and relative calm in markets, few analysts see the need for immediate action.
Some analysts are watching if the board will discuss the latest inflation and gross domestic product data. If nothing is mentioned, that would indicate no change in the BOJ's outlook after it dramatically cut its economic forecasts last month.
Still, with market expecting little action, it would be good timing for a positive surprise and could see the yen weaken against the dollar.
The BOJ expects interest rates to remain at the current low level or even lower.
A rate of -0.1% on some reserves kept at the bank by financial institutions.
Yield target of about 0% for 10-year Japanese government bonds, with a trading range of about 0.2 percentage point on either side of the mark.
Will purchase Japanese government bonds as needed and without a limit, though the amount of purchases remains secondary to controlling interest rates.
A guideline to increase holdings of exchange-traded funds with an upper limit of 12 trillion yen ($111.4 billion) a year. Actual purchases vary from month to month, depending on

market conditions

.
Active buying of corporate bonds and commercial paper with an expanded upper limit on holdings totaling 20 trillion yen.