Deflation Didn't Even Get a Mention in Japanese Prime Minister's Annual Speech
(Bloomberg) -- This was the first time Japanese Prime Minister Shinzo Abe didn't even mention the word "deflation" in his annual start-of-the-legislative-session speech to lawmakers, an omission that may help cement a view the Bank of Japan is now under less pressure to meet its elusive price target.
In his 41-minute speech Monday, Abe talked up the upcoming Tokyo Olympics, the government's latest stimulus package and the economy's growth over his seven years of leadership. One thing he didn't mention was deflation, a topic he's broached in every other annual speech since 2013. In last year's address, he boasted Japan was on the verge of defeating its "deflationary mindset."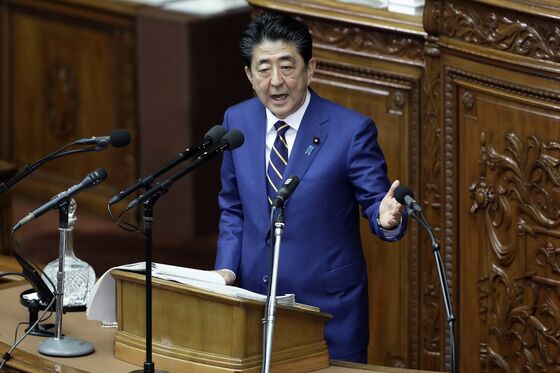 This year, Abe may have avoided the subject for the simple fact that offering a progress report might have been a little embarrassing. Inflation has actually slowed since his 2019 declaration of near victory. It's also possible that Abe didn't want to draw attention to price growth after the government raised the sales tax in October.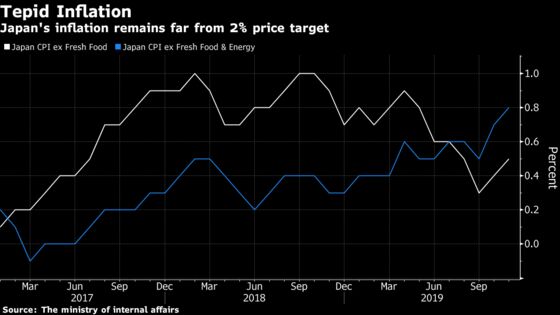 Regardless, the omission of the topic in Abe's speech signals the prime minister may no longer see deflation as one of the country's top challenges and the BOJ is now under less pressure to add more stimulus. Most analysts say that the $120 billion fiscal spending package unveiled last month by the Abe administration has made it easier for the bank to hold off on deploying more of its depleted policy ammunition.
All 42 economists surveyed by Bloomberg forecast the BOJ will stand pat on policy at the end of Tuesday's meeting. Attention will likely focus on the central bank's quarterly forecasts and any signs of growing confidence in an economic recovery that also makes future easing action less likely.