BOJ Bond-Buying Set for Slowest Pace in Kuroda Era, Goldman Says
(Bloomberg) -- If the Bank of Japan's "stealth tapering" of its asset purchase program were to continue at the current pace, it would need to revise its monetary easing policy within the next two years, according to Goldman Sachs Group Inc.
By the end of 2019, the pace of growth of the central bank's bond purchases is on track to fall to levels not seen since before the appointment of governor Haruhiko Kuroda in March 2013, economist Tomohiro Ota wrote in a note Thursday. This suggests the BOJ could come under renewed pressure to revise its current policy framework within the next year or two -- a major risk for financial markets, he said.
"In light of this, we believe the BOJ is likely to moderate the pace of reduction in JGB purchases over the next year or so and thereby extend the lifespan of the current quantitative easing policy," Ota wrote. A strengthening yen or other "unforeseen circumstances" would increase the likelihood of a slowdown in tapering, he added.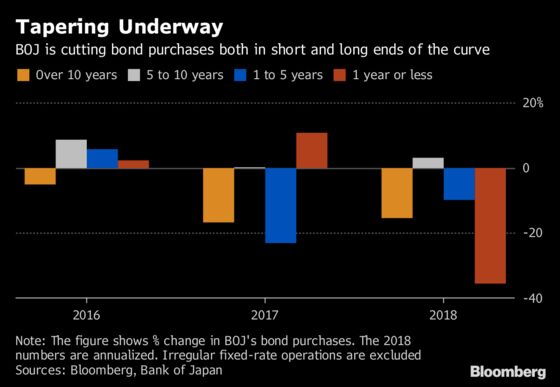 In its plan for October, the BOJ cut its purchase range for super-long debt, following a series of tweaks introduced in July to extend the longevity of its stimulus program. The annual pace of increase in the central bank's holdings has fallen to almost half of its guideline of about 80 trillion yen ($712 billion), and the drop is set to accelerate this month.
Even so, revising its easing policy would be very difficult in practice given the BOJ's commitment to maintaining expansion of the monetary base until inflation is stable above its 2 percent target, Ota said. Abandoning this commitment would mean revising the fundamental framework for easing which could present a major risk for markets, he said.
For investors, bond purchases are an useful indicator of the BOJ's view on current rate trends, Ota said. The duration of JGBs bought has now fallen to the shortest since the step up of quantitative easing in 2014, suggesting policymakers do not see the recent steepening of the yield curve as an issue, he said.
The yield on the 10-year Japanese government bond was at 0.15 percent Tuesday, close to the highest since prior to the the Bank of Japan's introduction of negative interest rates in January 2016.