BofA's Gaping 10-Year Bond Call Shows Market's Uncertain Outlook
(Bloomberg) -- For a sense of just how uncertain the outlook for Treasuries has become, look no further than Bank of America Corp.'s latest rates forecast.
Strategists at the Charlotte, North Carolina-based bank see 10-year yields either sliding below 1% by year-end, or surging as high as 2%, from a current level of about 1.26%. For now, yields are likely to stay in their recent trading range until clarity emerges on the path of inflation, the impact of coronavirus variants and the Federal Reserve's policy response, the strategists said in a report Tuesday.
"The market seems to be sitting at the threshold of a major bifurcation of scenarios with material implications for likely rates ranges both near-term and over the current cycle," strategists led by Bruno Braizinha wrote.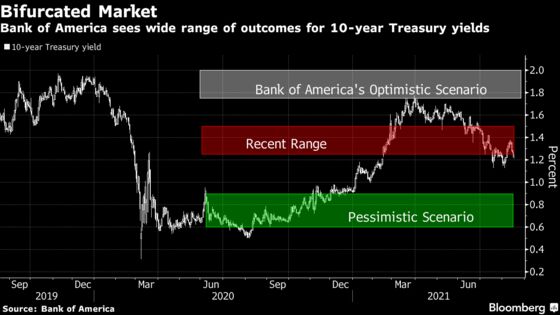 The bank's rather wide forecast range illustrates just how low conviction in the market has gotten. Traders are torn between crosscurrents that also include an improving labor market and the looming U.S. debt ceiling. 
JPMorgan Chase & Co. survey data released this week sum up the market's stance well: The number of clients with a neutral position on Treasuries has spiked recently, and is now at the highest since March.
Treasuries rallied in early trading Tuesday as jitters over the global rise in coronavirus cases sparked demand for haven assets. They erased gains after the U.S. retail sales print beat BofA and JPMorgan's estimates. Ten-year yields were little changed as of 4:03 p.m. in New York, after whipsawing between 1.13% and 1.42% over the past two months.
In a town hall meeting with educators and students Tuesday, Fed Chair Jerome Powell didn't discuss the outlook for monetary policy. On Wednesday, traders will parse the minutes of the central bank's July meeting for clues on when and how fast the Fed will reduce its $120 billion of monthly bond purchases. 
Bank of America's strategists said they have a bearish bias for Treasuries, but acknowledge that an increase in yields is more likely to be "backloaded" in the second half of the year.