BofA's CEO Says Getting Small Business Loans Shouldn't Be a Race
(Bloomberg) -- Bank of America Corp. Chief Executive Officer Brian Moynihan said the U.S. government's small business loan program should be fully funded, rather than having companies scramble for the cash required to get through the economic hit from coronavirus.
"If you qualify for this program it's like getting unemployment authorization and then you have to win a foot race to the office," Moynihan said Sunday on CBS's "Face the Nation."
"We need to take away the 'first come, first serve' aspect of this and make sure it's fully funded, because at the end of the day it's going to where people want it."
The unprecedented $2 trillion stimulus package included about $349 billion in loans to small firms that would convert to grants if they maintained payrolls. Those funds ran out in less than two weeks. An additional funding package, including a top-up of $320 billion to the Paycheck Protection Program, was signed last week by President Donald Trump. Lawmakers are already moving onto the next stimulus package.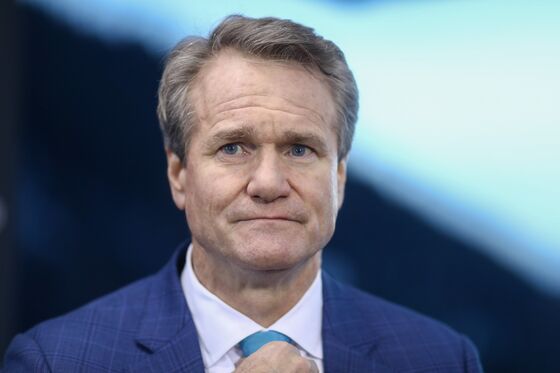 The U.S. economy will return to growth in the fourth quarter, and will get back to the same size it was prior to the pandemic by late 2021, Moynihan said. Analysts surveyed by Bloomberg News forecast the biggest contraction since 2009 in the first quarter before an unprecedented 26% plummet in the second quarter. The direst estimate is for a 65% contraction.
The trillions of dollars appropriated by Congress is meant to stem the tide of job losses and keep companies afloat as restaurants, retailers, and manufacturers shed staff.
So far during the coronavirus outbreak, 26.5 million Americans have sought jobless benefits, more than half the total during the duration of the 2008 financial crisis. It's wiped out all job gains in the most recent economic expansion, which lasted a record 11 years. It also implies an unemployment rate of 20%, which would be the highest since the 1930s Great Depression.
Demand for the PPP loans is high: Moynihan reiterated that the company's received about $50 billion in the first round of the rescue loans. He said on the company's conference call on Wednesday that the lender received 390,000 applications.
Moynihan highlighted the importance of getting cash to firms and to their employees to bolster consumer spending and help buoy the economy now and as it reopens.
As companies reopen, it "actually provides some hope that as the economy opens up in pieces, and safely, you'll see that consumer spending continue to grow," Moynihan said.
"The cash flow and the stimulus -- the PPP, the unemployment $1,200 payments -- all those things are going into the economy, and we're starting to see the effect of those."