Bank of America Double-Downgrades Square on Fear Small Businesses Will Fold
(Bloomberg) -- Bank of America double-downgraded payments stock Square Inc. to underperform from buy on concern small and medium businesses like restaurants, retailers and salons will struggle to stay afloat once they've spent government Covid-19 crisis funds.
"A significant number" of small and medium outfits may struggle to survive, especially if the U.S. economy only partially reopens and firms are limited to 25% to 50% occupancy, analyst Jason Kupferberg wrote in a note.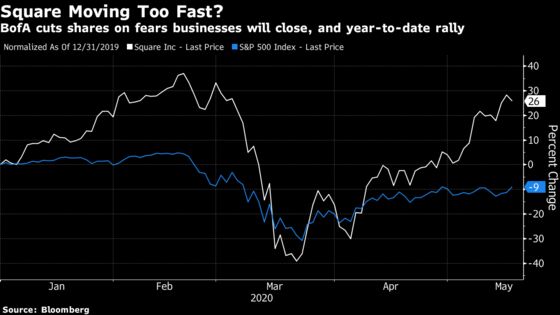 "The extent of SMB churn is hard to quantify, and likely won't be known for perhaps another 6 months, but we note that 75% of Square's payment volume comes from merchants with less $500,000 in annual card volumes," he said.
He also flagged Square's 26% rally so far this year, which compares with a 9% decline for the S&P 500. The stock may have "moved too far and too fast relative to its near-term fundamental prospects," he said.
In the same note, Kupferberg also became the sole bear on payroll processor Automatic Data Processing Inc., cutting his rating to underperform from neutral due to "extreme stress on employment markets." ADP is exposed to the current recession not just because of the number of employees on its clients' payrolls, he said, but also in terms of client retention, new bookings and lower float income.
He added that Paychex Inc.'s business update call on Tuesday may be a "negative catalyst" for ADP, as Paychex will probably pre-announce a guidance miss for the quarter ended May 31. Kupferberg rates Paychex underperform too, as 99% of its revenue comes from U.S. small and medium businesses averaging 16 employees.
Square pared a decline of as much as 2.5% in early Monday trading, while ADP nearly erased a gain of as much as 2% and Paychex rose as much as 4%. Stocks rose across the board on optimism about an experimental vaccine, and as major economies took further steps toward re-opening and the Fed stressed it has more ammunition to combat a downturn.
Read more: May 8, Square Cut at Guggenheim on Hard Times for Restaurants, Shops