Bank of England Says It's Unlikely to Meet Gender Targets by End of Year
(Bloomberg) -- The Bank of England is unlikely to meet its year-end targets to get more women into roles even after stepping up efforts to improve diversity, Chief Operating Officer Joanna Place said in an interview.
Women now hold 32% of senior management roles and probably won't reach their goal of 35% by year end, Place said at Bloomberg's Diversity Summit Wednesday. The three-century old central bank is also finding it challenging to promote Black, Asian and Minority Ethnic staff to senior positions, she said.
Despite former Governor Mark Carney putting diversity at the forefront of his agenda throughout his almost seven-year tenure, the BOE has struggled with the self-imposed targets. One reason is that lower levels of employee attrition during the coronavirus pandemic are also slowing things down, Place said.

Women now make up 46% of other positions, compared to a year-end target of half. Progress on increasing the proportion of BAME staff in senior positions by the end of 2022 is also lagging. The BOE has, however, hit its goal of 20% representation among staff below the highest management level.
"It's always a challenge to know whether to set a realistic and achievable target so you can celebrate meeting it" or to aim for a tougher goal, Place said. "I do believe that the outcomes will be significantly better than if we had set ourselves a slightly softer target."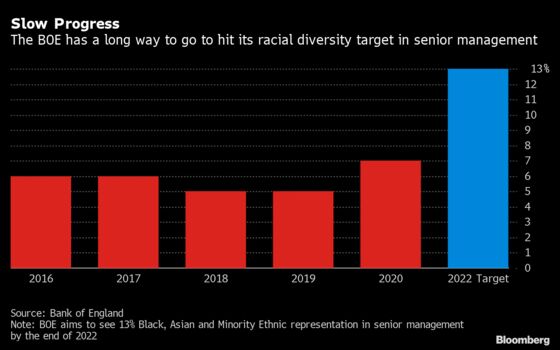 The BOE is also exploring its own links to slavery and racism following protests sparked by the killing of George Floyd.
It announced in June that it would remove portraits of former governors and directors linked to slavery from the bank. Place said it is now reviewing both their connections and how the central bank itself facilitated the trade in an attempt to acknowledge and reset the past.
It's also looking at how it can better support the careers of Black and other ethnic minority staff to build a pipeline into senior roles, she said.
"We've had lots of actions but they haven't resulted in the outcomes that we really want," she said. "We want to take a more forensic approach" in order to "really move the dial."