BOE's Saunders Says Any Rate Rise in Next Year Will Be Limited
The Bank of England's most hawkish policy maker says even if interest rates rise in the next year, it'll be a limited shift.
Michael Saunders, the Monetary Policy Committee's sole dissenter at the U.K. central bank's August meeting, said that if the economy evolves as forecast, it might be right to think rates will go up in the next year or so. The BOE's current policy stance risks "persistent inflation overshoot versus the 2% target" due to pressure from global costs and domestic capacity pressures, he said.
Still, if the key rate does rise, it won't be by much, given that the bout of above-target price growth this year is expected to be temporary, and that the neutral level of interest rates has fallen significantly over the past 20 years, he said. 
"It's not clear we would even need to get back to neutral," he told an online briefing. 
Markets were little changed. They still expect the first post-pandemic rate hike in May, with 28 basis points of cumulative rises by the end of 2022.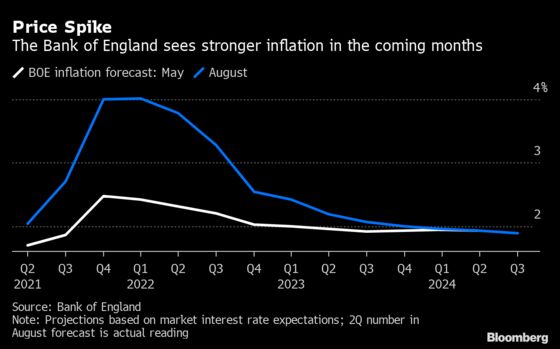 Saunders added that the U.K. economy is "probably fairly close to pre-pandemic levels but the recovery has been very uneven," noting that while spending on services has not yet fully bounced back, consumer spending on goods and business investment in machinery have been buoyant. The long-term effects of Brexit, he warned, in terms of slower capital stock growth and a shrunken workforce, could outweigh those of the pandemic but investment in productivity may be a silver lining of the Covid-19 crisis.