Bank of England Official Sees Inflation Rising Further to 4%
Bank of England Deputy Governor Dave Ramsden said inflation may peak at double the targeted level in the U.K., indicating monetary policy might need tightening.
Hours after data showing inflation leaped more than expected to 2.5% in June, Ramsden estimated the reading may peak around 4%. He said unemployment may end up lower than the BOE's forecast in May and that wage growth is likely to surge again in a report due Thursday.
The remarks will fuel speculation that the pace of the economic recovery will prompt the BOE to start debating when to unwind its stimulus program when the rate-setting committee meets in August. The majority of policy makers have, until now, emphasized the temporary nature of the price increases and that inflation is likely to fall back to the 2% goal next year.
While Ramsden said his outlook is just one way the economy could evolve, he indicated the upside risks are now stronger.
"I can envisage those conditions for considering tightening being met somewhat sooner than I had previously thought," Ramsden said in the text of his speech. "On balance I put more weight on my inflationary than my dis-inflationary scenario. I am somewhat less confident than I was that there remains a margin of spare capacity in the economy."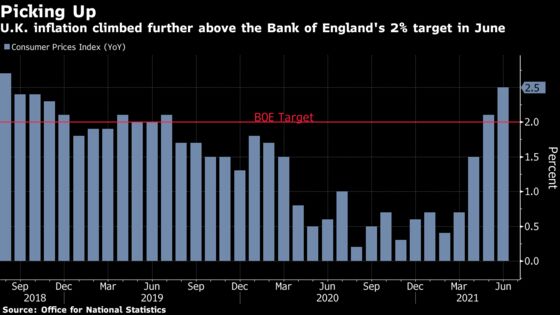 Ramsden's remarks contrast sharply with most other members of the Monetary Policy Committee. Earlier on Wednesday, Jon Cunliffe, another deputy governor, gave a more neutral assessment of June's jump in inflation.
"We're seeing a surge in demand, we're seeing some constrictions in supply that is driving inflation. How persistent is that is the clear question," Cunliffe said on CNBC. "We would expect some of these pressures and we would expect transitory pressures at this stage."
Governor Andrew Bailey, in a speech on July 1, said his "view is that the economy will revert to the lower average underlying growth rates that we have seen since the financial crisis."
Ramsden's comments are more similar to that of Andy Haldane, who stepped down as the bank's chief economist last month after warning for months that inflation may be getting out of control. Days before departing, he said consumer prices could finish the year closer to 4% than the BOE's 2% target.
Ramsden said the BOE has a number of tools to manage the economy depending on how the outlook evolves. If the picture weakens, the BOE could push interest rates below zero. If growth strengthens, it could end its asset purchase program early, raise interest rates or even sell government bonds.
"We have a very significant QE program," Ramsden said. "It's conceivable that we could not complete the current program of asset purchases. That would represent a tightening. When it comes to the extent of tightening or loosening, we think it's very state contingent" about the condition of the economy.
Read more: Bank of England's Ramsden Sees Risk U.K. Inflation Will Reach 4%