Bank of England Deputy Governor Warns of Big Fall in Pound on Bad Brexit Outcome
(Bloomberg) -- The pound could see a "big fall" if the U.K. crashes out of the European Union in a disruptive Brexit, according to a deputy governor of the Bank of England.
The currency is being driven by negotiations with the EU, with its current value reflecting a number of possible outcomes, Jon Cunliffe said in testimony to Parliament Wednesday. That means large swings are possible once the outcome becomes known, he said.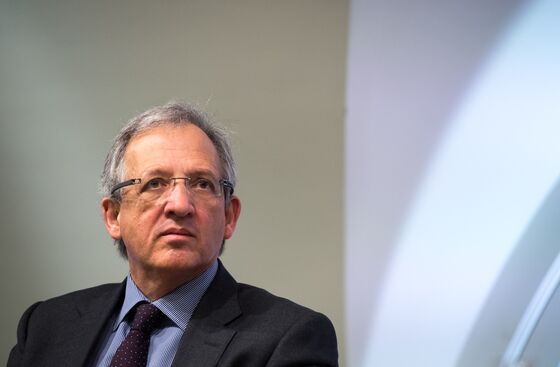 "At some point when the true Brexit is revealed and the path to it becomes clearer -- it's not a single event but it will happen quite clearly -- then I'm pretty sure we'll see the exchange rate move," Cunliffe told the House of Commons Treasury Committee.
"There's been more people trying to protect themselves from a fall, so that suggests if a kind of bad Brexit outcome happens, we'll see something on the exchange rate."
"Arguably there's more pessimistic expectation in there now than there was at the referendum -- you could see a big fall," he added.
After talks Wednesday failed to break a deadlock in Brussels, Prime Minister Theresa May is considering extending the transition period after formally leaving the bloc in March. EU leaders decided that not enough progress had been made so far to call a summit to sign a divorce agreement in November.
While Cunliffe reiterated that the BOE doesn't target an exchange rate, he said the value of the currency has big implications for the task of meeting the 2 percent inflation goal. His comments echo those made previously by Governor Mark Carney, who confirmed Wednesday that the BOE would provide lawmakers with an analysis of the impact a withdrawal agreement with the EU, "including in a 'no deal no transition' scenario."
The pound has been in thrall to Brexit developments since long before 2016's referendum, and saw its biggest fall on record in the aftermath of the vote. The depreciation pushed up import prices and sent inflation spiraling, effects that are only now starting to fade. The currency is down about 12 percent since June 23, 2016.
While there's some evidence traders are becoming more patient as they await any signs of a deal, they are still seeking protection against sudden swings.
A gauge of three-month implied volatility for the pound against the dollar is close to the highest level since early 2017, while the cost of contracts protecting against a move lower in the same period are at their most expensive since 2016 relative to those that would profit from a rally.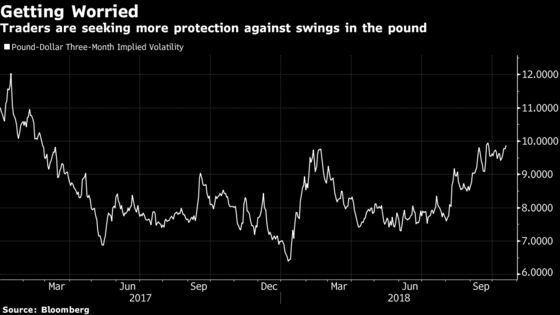 Cunliffe, who oversees the BOE's work on financial stability, told lawmakers he believed officials, including those at the Treasury, had "unilaterally' done everything they can to prepare for a no-deal Brexit.