BOE's Broadbent Declines to Say If a Rate Rise Will Be Needed
Bank of England Deputy Governor Ben Broadbent broke from the guidance that policy makers set down in November, declining to say that interest rates will need to rise in the coming months to control inflation.
The remarks in a response to questions after a speech raised more doubts about the U.K. central bank's readiness to tighten monetary policy. He noted that the omicron variant of the coronavirus is another surprise that will take time to assess, and that much of the current upward pressure on inflation will be "transitory."
A question about "what are you going to do to interest rates is simply not answerable," Broadbent said Monday, when asked whether he still thought rates would need to rise. He said he wouldn't decide on rates until the BOE has its next policy meeting on Dec. 16. On omicron he said:
Economic effects will depend on "accompanying policies"
New variant appears more infectious, but much remains unknown
Questions remain over whether it could prove more deadly and likely to cause serious illness, and how susceptible it is to current vaccines
The emergence of omicron has prompted traders to pare bets on an imminent BOE rate hike. Money markets are now pricing in a less than 50% chance of a move this month.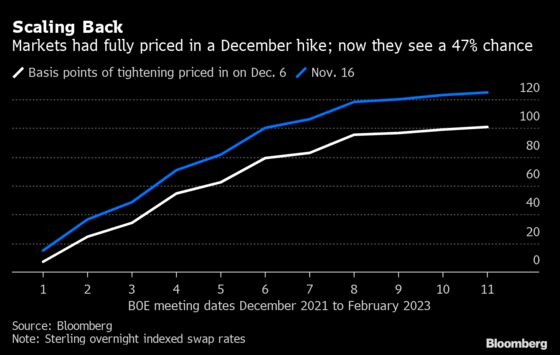 In his speech to Leeds University Business School, Broadbent said that the rise in traded goods prices, which has been driven by supply-chain disruption, is likely to subside and even go into reverse before any rate increases had time to take effect. 
He predicted inflation will "comfortably exceed 5% in the spring" when suppliers are set to hike energy prices in response to the sharp increase in wholesales costs. 
However, the labor market is likely to prove a more durable source of inflation, he said, with data on staff availability and vacancies suggesting that things are even tighter than the headline rate of unemployment suggests. The ending of government wage support for furloughed workers in October has done nothing to ease the squeeze, he said.
There is "an upside risk to wage costs from currently high inflation," Broadbent said. "If wage earners' expectations of future inflation rise in response, of if they seek compensation for the rises in the costs of living that have already occurred, wages could also accelerate further, even without any additional decline in unemployment."
BOE's Broadbent Says 'Transitory' Inflation May Pass 5% in 2022