BOE's 'Bang in Line' GDP Forecast Gives Carney License to Smirk
(Bloomberg) -- Go inside the global economy with Stephanie Flanders in her new podcast, Stephanomics. Subscribe via Pocket Cast or iTunes.
Mark Carney allowed himself a public smirk of vindication on Thursday as the Bank of England governor pointed out the accuracy of his institution's economic predictions.
"To get a sense of their consequences, it is helpful to review how the U.K. economy has performed relative to MPC's forecast from February last year," the central bank chief told reporters in his opening statement after the Monetary Policy Committee kept its interest rate on hold. "Overall GDP growth appears bang in line with our forecast."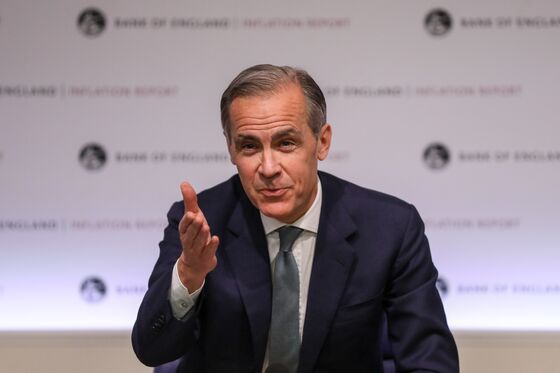 Carney acknowledged that the mix of growth had differed from officials' predictions, with a shift from consumer spending towards business investment and net exports failing to materialize.
But after years of Brexit-fueled political criticism that the institution somehow got things wrong in its warning of the economic risks of a vote to leave the European Union, the governor wasn't going to let an opportunity pass to set the record straight. He also couldn't resist returning to the matter later during the press conference.
"I'm just going to repeat this because I'm enjoying this. Our forecast was bang in line. O.K.?"