BOE's Bailey Slams EU Stance on Swaps Clearing After Brexit
(Bloomberg) -- Bank of England Governor Andrew Bailey warned the European Union against demanding that euro derivatives are settled by clearinghouses inside the bloc, saying such a move would be a "very serious escalation" and that it would draw a U.K. response.
The EU appears to be moving towards a policy of insisting such trades are located in the bloc, Bailey said during a hearing with U.K. lawmakers on Wednesday.
A so-called location policy of forcing banks and dealers to move clearing business to the EU would be "very controversial," Bailey said. "I have to say that that would be something we would have to, and want to, resist very firmly."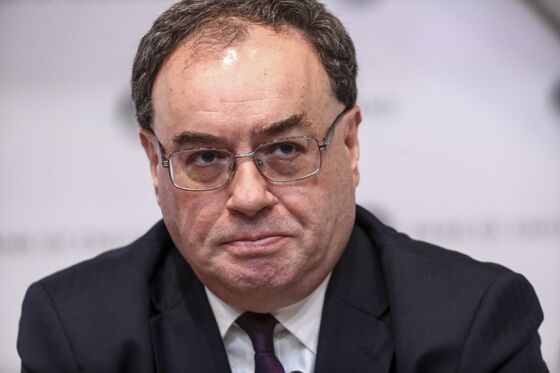 His comments -- his strongest yet -- are a mark of the post-Brexit tensions and Britain's growing frustration about the EU's reluctance to grant so-called equivalence rulings that would enable London-based finance firms to operate in the bloc.
The lack of an agreement has put London's decades-long dominance of European finance under threat. This year, the Square Mile lost its crown to Amsterdam as Europe's top place to buy and sell stock while traders have shifted some interest-rate swaps out of the U.K.
The London Stock Exchange Group Plc's clearinghouse in London is the dominant location for euro derivatives and the EU has allowed it to continue handling trades for European clients through June 2022. The European Commission, the EU's executive arm, is pressing banks and other traders to shift more euro-denominated business to the bloc.
If the temporary equivalence decision isn't renewed, Bailey said a quarter of euro-derivatives clearing business would need to shift to the EU. The rest could stay in London because it is the most efficient place for it, he said.
"If only 25% moves, it isn't really very viable," Bailey said. "The EU takes something, but it doesn't take a piece that's really viable for its own industry to conduct in the EU."
Bailey said it now appears the EU is seeking to pressure firms into relocating the other 75% of the business too, outside of any consideration around whether the U.K.'s regulations are equivalent.
"This debate is not about equivalence," he said.