Bailey Says G-20 Should Push 'Robust Openness' in Trade Policy
(Bloomberg) -- Bank of England Governor Andrew Bailey said G-20 finance ministers meeting this weekend should pursue a policy of "robust openness" to allow global trade to keep flowing.
The U.K. central bank chief said company supply chains depend on open borders and the free flow of goods and services to work efficiently. The remarks followed an unexpectedly sharp slowdown in Britain's economic recovery, driven by a microchip shortage that prompted one of the biggest drops in manufacturing output on record.
He spoke on a panel hosted by the Organization for Economic Cooperation and Development on how to boost productivity, an issue he said is crucial to the recovery from the pandemic. While some politicians, notably Donald Trump when he was U.S. president, pushed for trade barriers along with Covid-19 restrictions, Bailey said openness to trade is crucial to the recovery.
"It's important that this change persists and raises the potential rate of growth because that will have a very important benefit in how we manage the very substantial increase in the debt burden, by both companies and governments from Covid," Bailey said on a panel discussion.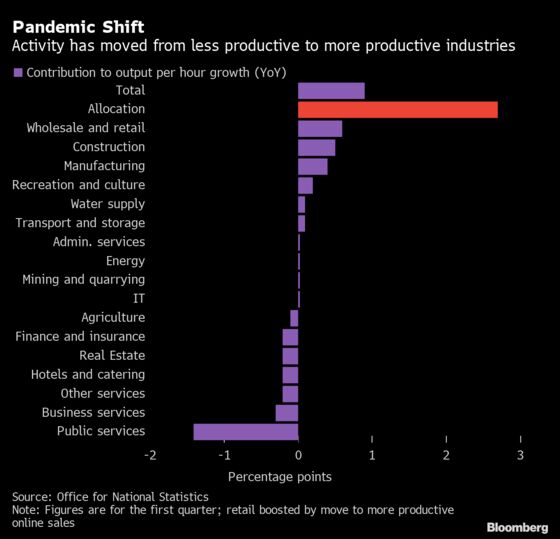 The U.K. is benefiting from a rapid spread of digital technology during the pandemic that are making the economy more efficient, he said. The trend is especially pronounced in the retail industry, where consumers shopped online instead of in stores during lockdown, and some of those changes will persist after the pandemic, Bailey said.
"We do see already evidence of a shift to labor saving use of digital technology, which in itself raises measured productivity growth," Bailey said on a panel discussion hosted by the Organization for Economic Cooperation and Development on Friday. "Probably the best example of that is retailing: we saw a 10 percentage-point increase in the share of online retailing last year.
Bailey said policy makers at the U.K. central bank are working on understanding the link between automation, productivity and equilibrium interest rates.