BOE May Support Pound Amid Brighter Data, Brexit Deal Hopes
(Bloomberg) -- The pound's fortunes are being dictated by Brexit and signs of optimism over a deal could lead to a more hawkish-sounding Bank of England driving the currency higher.
Market bets on further BOE policy tightening have receded in recent weeks following August's quarter-point interest-rate increase, with the next hike not fully priced in until the end of 2019. While this could signal a non-event at Thursday's BOE announcement for sterling and gilts, there is a risk that current market thinking could prove too dovish.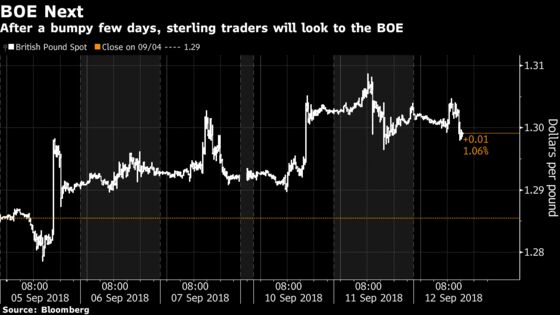 "The stronger data flow supports the BOE's decision to tighten policy last month, and could prompt the BOE to maintain a hawkish signal at this week's policy meeting," said Lee Hardman, currency strategist at MUFG. "The pound has failed to reflect the stronger U.K. data flow and higher U.K. rates in recent months, which creates scope for catch-up strength if Brexit risks ease."
The pound found some support earlier in the week on better-than-expected U.K. economic data but has since been whipsawed by conflicting Brexit headlines. The currency struggled to hold above the $1.30 mark Wednesday. European Commission President Jean-Claude Juncker rejected the U.K.'s plans for Britain to stay in "parts" of the single market after it leaves the bloc, but said he would work "day and night" for a divorce agreement.
"What could move the market would be if we were to see the Monetary Policy Committee suggesting that market rate expectations are a bit too dovish," said Daniela Russell, the head of U.K. rates strategy at HSBC Bank Plc. "But they probably won't want to push back too hard while Brexit uncertainty is high, and so front-end yields should stay well anchored and any sell-off is likely to be small and short-lived."
Here's what some analysts are saying ahead of Thursday's meeting:
The balance of risks facing the pound over the release of the MPC minutes are tilted to the upside, but still expect GBP strength to be tempered by a lack of Brexit clarity, says Stephen Gallo, European head of currency strategy
BMO strategists give an 85% chance that there is a 9-0 or 8-1 MPC split; upbeat assessment on economy, clear bias toward delivering additional rate hikes; and in that case, GBP/USD could see a knee-jerk reaction to jump 0.35%
Still, over the longer term expect further increase in "cliff edge Brexit" risks and thus prefer to continue playing EUR/GBP from the long side for now
HSBC's Russell likes trading the front-end of the curve from the long side
The bank's strategists think the risks are skewed toward the BOE not being able to tighten as much as it's intending
"In fact, we still expect bank rate to stay on hold until at least the end of 2019 as we don't think the underlying growth picture is quite as robust as some of the recent headlines might suggest," Russell says
Positioned for a steepening of the two- to 10-year part of the Sonia curve
There is limited downside risk from the BOE, and "only really upside risks given the dovish market pricing," said Viraj Patel, currency analyst
Another hike not fully priced in until Dec 2019 so "there's definitely scope for the U.K. curve to steepen in the event of a no-deal Brexit being averted"
Thursday's BOE decision however "is unlikely to be the catalyst for investors to bring forward their expectations for the timing of the next rate hike"
Expects limited Brexit references as the MPC will want to refrain from being caught up in the political debate
Strategists at JPMorgan including Francis Diamond see a 9-0 vote split to keep rates on hold
"Domestic politics should dominate the BOE and data over the coming weeks with the annual Labour and Conservative party conferences"
Difficult to see actually dovish dissent given the data flow, but any sense that the MPC sees increased downside risk from Brexit would be taken as dovish by the market
Remain neutral on 10-year gilt yields and enter long in May19 MPC OIS
They "keep bullish hedges for a tail risk 'no-deal' scenario"
Another rate BOE hike "by February of next year does not appear as far fetched now," says MUFG's Hardman
Mainly watching to see if BOE displays more discomfort over domestic inflation pressures, but most likely in wait-and-see mode until more clarity from Brexit talks in coming months
If GBP/USD can hold above 1.30 it would encourage an extended rebound toward 1.33
Window of further strength is short given the U.K. Conservative Party conference toward the end of the month, heading into which Hardman would opt for a "more cautious stance" on sterling