Bank of England Boss Says He's 'Very Uneasy' About Surging Inflation
(Bloomberg) -- Bank of England Governor Andrew Bailey told U.K. lawmakers he is "very uneasy about the inflation situation" amid mounting evidence that a shortage of workers will drive up wages.
Bailey told the House of Commons Treasury Committee on Monday that the labor market is looking "tight" but that he wanted to see what happened after the furlough program ended before voting to raise interest rates.
The governor spoke one day before the Office of National Statistics releases the first official data since furlough ended on September 30, which will provide an early clue to the BOE's likely course of action.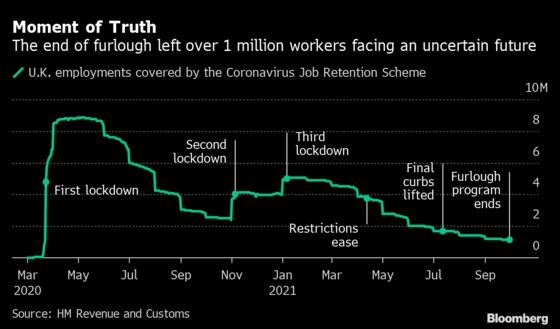 Investors and economists expect policy makers to increasing borrowing costs in December to curb inflation, which the central bank expects to peak at around 5%, more than double its target.
Bailey said all the signs suggested wage pressures are building. He pointed to the 450,000 workers who have become inactive since the start of the pandemic and an estimated "300,000 to 400,000" reduction in the working population due to emigration and other factors.
"The labor market has tightened already," he said. However, at around 1 million, the number on furlough at the end of the program was more than the BOE had expected. He reiterated that his decision not to raise rates in November had been "a very close call." 
"The real puzzle is what happened at the end of furlough," he said.
Huw Pill, the BOE chief economist, said there was no evidence yet that higher inflation was seeping into general pay levels. While starting salaries may be rising, that has not necessarily lifted pay for existing employees.
Michael Saunders, an external BOE rate-setter who voted for a hike last month, said there was "no risk of a wage price spiral" because the central bank would raise rates to bear down on inflation.