BNP Profit Beats as CEO Bonnafe Sees Rebound in Equities
(Bloomberg) -- BNP Paribas SA got a boost from lower provisions for bad loans and a rebound in equities trading last quarter, as Chief Executive Officer Jean-Laurent Bonnafe builds up the trading business.
Revenue from the stocks unit more than doubled from a year earlier, helping drive a 27% jump in overall profit that topped analysts' estimates. Still, the Paris-based lender saw a steep drop in the larger fixed-income trading business that mirrored the performance of Wall Street peers, as well as lower revenue from advising on deals and capital raisings.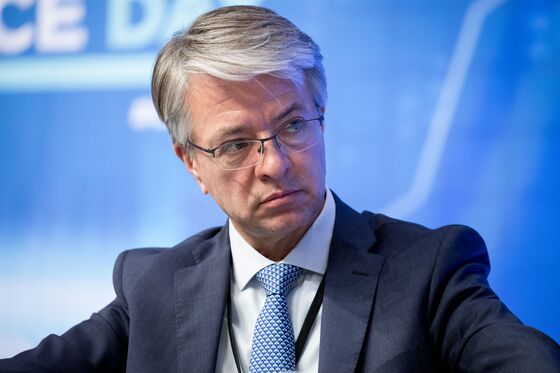 BNP and other French rivals saw their equities units hit by steep losses last year on structured products that misfired in the market gyrations induced by the pandemic. BNP recently closed the acquisition of the stake it didn't already own in Exane and expects to complete the takeover of Deutsche Bank AG's prime services business by the end of the year. The CEO is betting stronger collaboration between the investment bank's different units will help fuel growth.
While BNP rebounded from last year's losses more quickly than its French peers, investment banking results have remained mixed. Equities trading revenue of 757 million euros easily beat analysts' 548 million-euro estimate. Fixed-income trading fell 43% from a strong quarter last year, in line with the top U.S. banks but worse than the performance of European rivals such as Deutsche Bank, where the business declined 11%.
BNP gained as much as 2.1% in early Paris trading, and was up 0.2% as of 9:11 a.m. local time. The stock has risen about 21% this year, slightly higher than gains in the Euro Stoxx Banks Index.
Highlights from BNP's second-quarter results:

| in million euros | 2Q21 | 2Q20 | YOY Change | Estimate |
| --- | --- | --- | --- | --- |
| Net Income | 2,911 | 2,299 | +27% | 2,249 |
| FICC Trading Revenue | 1,148 | 2,013 | -43% | 1,054 |
| Equities Trading Revenue | 757 | 290 | +161% | 548 |
| Corporate Banking Revenue | 1,238 | 1,258 | -1.6% | 1,207 |
| Domestic Markets Revenue | 3,952 | 3,602 | +9.7% | 3,726 |
| Intl Financial Services Revenue | 3,948 | 4,027 | -2% | 4,004 |
| Loan Provisions | 813 | 1,447 | -43.8% | 1,079 |
BNP's corporate banking unit, which makes money from advising on bond or share sales as well as mergers, saw revenue fall 1.6%. At Switzerland's UBS Group AG, by comparison, advisory revenue surged 68%. Wall Street dealmakers had some of their best performances on record, with the largest U.S. firms posting an average gain of 11%.
Net income rose 27% to 2.91 billion euros ($3.46 billion), beating analysts' estimates as BNP set aside less money than expected for souring debt.
Helping offset some of the volatility in investment banking earnings, BNP also has a large retail network, divided into a European and an international business. Each contributes about as much in revenue as the investment banking unit, steadying earnings and allowing BNP to regularly return capital to shareholders.
"In the second quarter, you see volumes going up, everywhere in our European environment," Chief Financial Officer Lars Machenil said in an interview with Bloomberg TV.
The firm was among the hardest-hit when the European Central Bank imposed a de facto ban on dividends last year. It plans to pay a 1.55 cash dividend to investors when the ECB's cap expires at the end of September, and will review its distribution policy early next year when it announces its new strategic plan.
Bonnafe has urged the ECB to assure investors that such restrictions aren't likely to recur, saying in May that Europe needed "a swift exit from these restrictions, with a wording that shows that this was really exceptional and that it is not susceptible to come back in any circumstances." The ECB last week lifted its restrictions on dividends, while urging banks to be cautious.