BNP Paribas Halts New Turkish Lira Trades at Prime-Broker Unit
(Bloomberg) -- BNP Paribas SA is shrinking its operations in the Turkish lira market following a regulatory clampdown that briefly barred local lenders from trading with the French bank this month, according to three people with knowledge of the matter.
The bank's foreign-exchange prime-brokerage unit, which caters to hedge funds and other institutions, has stopped offering customers new Turkish lira trades, the people said, who asked not be named as the details aren't public. Paris-based BNP Paribas will only process trades that maintain or reduce clients' positions, one of the people said.
Earlier this month, as the lira tumbled to a record low, Turkey's banking regulator banned local lenders from trading the currency with Citigroup Inc., UBS Group AG and BNP Paribas, a decision that was reversed within days. The lenders face an investigation to determine whether they manipulated the currency, the regulator said May 10, before the trading restriction was lifted.
Murray Parker, a spokesman for BNP Paribas in London, declined to comment. Edwina Frawley-Gangahar, a spokeswoman for Citigroup, and Hana Dunn at UBS both declined to comment.
BNP Paribas is one of the biggest financial intermediaries for the lira and has a stake in Turkish lender Turk Ekonomi Bankasi AS. Its decision to retreat from the Turkish currency market underscores how fragile relations between investors and authorities have become amid the latest market rout, with President Recep Tayyip Erdogan vowing to defeat foreign plots aimed at undermining Turkey's economy.
It also shows how difficult it has become for foreigners to trade the lira.
In a bid to stand in the way of short sellers, the banking regulator has choked off foreign investors' access to liquidity. But the approach has only exacerbated capital outflows, bifurcated the market and widened bid-ask spreads, giving way to erratic price swings.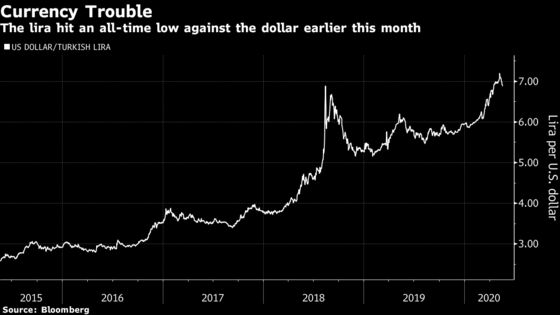 Highlighting the lack of liquidity in the lira market, the overnight implied yield on the currency -- the cost that foreign investors bare to fund lira positions -- spiked to over 25% earlier in May. That compares with the central bank's weighted-cost of funding of just over 8%.
BNP Paribas' decision could also ripple across other corners of the market, forcing smaller brokerages to unwind their operations in the cross. Last week, Clearstream Banking and Euroclear Bank jointly decided to suspend Turkish lira transactions over a shared platform, while earlier this month, Turkey's largest currency brokerages said they are no longer executing new lira trades for leveraged retail clients.
The currency fell to an all-time low of 7.2690 per dollar on May 7. It has since recovered ground, gaining for a ninth session on Tuesday, its longest winning streak in almost a year, to 6.8747 as of 10:40 a.m. in Istanbul.
"We have foiled the attack on our country through foreign currencies," Erdogan said in televised remarks late Monday. "We will never show mercy to those smuggling foreign currencies outside the country."
Foreign investors withdrew $1 billion from the nation's local-currency bond and equity markets in the week ending May 8. Over the past 12 months, they've pulled more than $10 billion, the biggest outflow since January 2016.
According to the latest central bank data and Bloomberg calculations, foreign accounts on average made up 32% of all Turkish lira spot, forward and swap transactions with Turkish banks over the 30 trading days through May 5, a record low. That's down from a high of 65% in February 2018.