Blue Bonds to Test Waters for Sustainable-Debt Demand in LatAm
(Bloomberg) -- A development bank is preparing to test whether the craze for sustainable debt extends to Latin America's oceans.
IDB Invest is structuring the sale of what would be the region's first blue bond, with proceeds to be used to finance maritime projects such as sustainable fisheries across the region and tourism developments in the Caribbean.
"It will provide a start to create a market that can finance the blue economy," said Gema Sacristan, chief investment officer at IDB Invest, the private sector arm of the Inter-American Development Bank Group.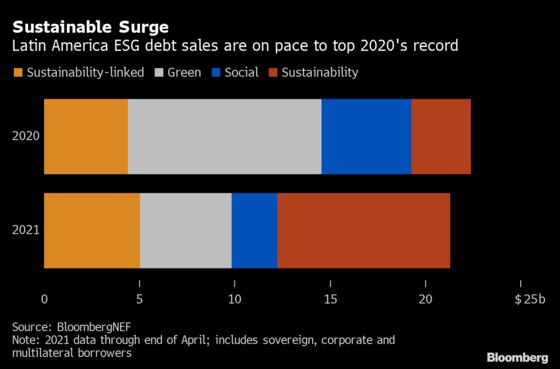 Globally, only a handful of such bonds have been sold, starting with the Seychelles government in 2018. Sacristan said that while previous blue issuance been small -- the Seychelles sale was for just $15 million -- IDB Invest aims to raise $100 million or more.
IDB Invest is still identifying how it intends to use the bond proceeds. Seaports that are looking to green their environmental impact could be candidates, as well as fisheries and tourism-related projects in the Caribbean, Sacristan said
The sale would be another test of investor demand for the thriving market for debt that finances environmental, social and governance projects, so-called ESG debt. Although Latin America is on pace to top last year's issuance record, it still accounts for just around 2% of global sales.
IDB Invest, which has helped structure green, social and sustainable bonds by borrowers in nine countries in the region, is aiming to spur the sector. This year, it sold debt to finance lending that promotes gender equity as well as a $1 billion sustainable bond for green and social projects.
Read more: IDB Invest Sustainable Bond to Spur Other Deals
It plans to return to the market as soon as this month with its own green bond -- with proceeds financing environmentally beneficial projects -- followed by the blue bond, which will likely come in the second half of the year.
The bank last month released an executive guide that provides a road map for companies considering issuing ESG debt.
"We really see this trend gaining momentum globally and increasingly in the region," Sacristan said. "The main goal is to encourage Latin American issuers to use capital markets to finance sustainability-related projects."