Blue Apron Chief Eyes Profitability While Stock Tumbles
(Bloomberg) -- Blue Apron Holdings Inc. fell as much as 29% on Thursday after the meal-kit company said it lost customers during the pandemic as it struggled to find workers to meet surging demand.
To keep up with the orders, Blue Apron worked to boost capacity at its fulfillment centers, hired more employees where it could, increased wages for frontline workers, and temporarily cut menu options, which limits the need to change production lines. But the company said those changes won't be enough to meet consumers' demand for an easy-to-prepare feast until the first quarter.
Meal-kit customers fell 7.5% to 357,000 in the three months ended Sept. 30. Those customers were ordering more, however, helping boost revenue 13% to $112.3 million.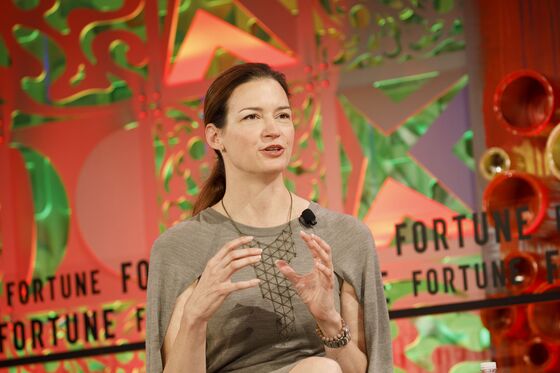 Chief Executive Office Linda Findley Kozlowski told Bloomberg in an interview profitable growth is very near despite the capacity warning. "We're still the number one brand in the space and most recognized and most desired to try," she said.
Shares have so far not caught on to Kozlowski's enthusiasm, tumbling more than 70% since April 2019 when she joined from Etsy Inc. where she was the chief operating officer.
"Customer number fluctuations are pretty normal, you'll have people coming and going, you have seasonality," Kozlowski said. "Customers are actually up from the end of last year."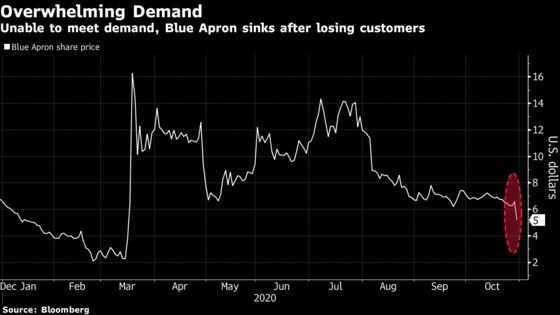 The company reported a third quarter loss of 96 cents a share, narrowing from a loss of $1.99 a share a year earlier. The New York-based company said it expects fourth-quarter sales of $108 million to $112 million. Losses for the final quarter of the year are expected to be no more than $15 million.
Blue Apron shares fell to as low as $4.65 in New York, less than half the 2017 initial public offering price of $10 and the lowest level touched since mid-March.