Blue Apron's Biggest Bounce Ever Still Can't Get Stock Above $1
(Bloomberg) -- Blue Apron Holdings Inc. surged, and was on pace for its largest rally on record while extending its rebound to a third straight session, though shares of the at-home meal-kit company remain below $1 and on track for a sharp 2018 decline.
The stock popped as much as 25 percent -- a gain of 19 cents -- to trade as high as 98 cents Thursday. The move catapulted its three-session gains to more than 48 percent, a record gain over that period. Trading was heavy, with more than 2.9 million shares exchanging hands in the first 90 minutes hour of trading, nearly four times its 30-day average volume during that time of day.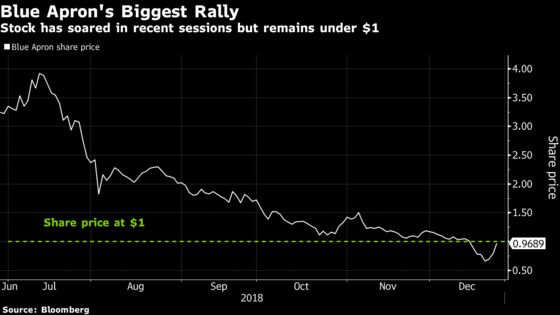 Last week, Chief Executive Officer Bradley Dickerson told Bloomberg that Blue Apron was focusing on its "best customers" in a move to stabilize its revenue trends by the end of next year. In its most recent quarter, it reported revenue that was down 28.5 percent from the prior year.