Blowout Russian Bond Sales Point to 'Show of Force' by Banks
(Bloomberg) -- Russia had its biggest-ever auctions of fixed-coupon bonds as sales resumed after last week's market turbulence.
Yields fell and the ruble strengthened after the finance ministry sold 154.1 billion rubles ($2 billion) of July 2035 debt. That record for so-called classic OFZs stood for less than three hours -- the ministry placed 200.9 billion rubles of May 2028 bonds in a second tender.
Russia was forced to axe a sale ahead of time last week, citing market volatility as yields spiked on renewed sanctions concerns, slumping oil prices and turmoil in emerging-market assets after the Turkish lira's slump. Wednesday's successful offering may have been ensured by large Russian state banks, according to Damien Buchet, Finisterre Capital's chief investment officer.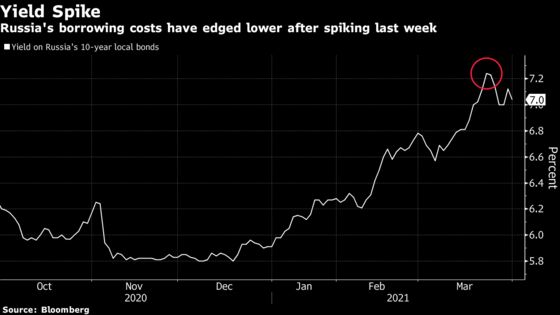 "If that's the case, then it looks like a show of force to the investment community," he said. The aim may have been to show that "if push comes to shove, and foreigners are prevented from buying, domestic resources are ample enough to cover the shortfall," he said.
READ MORE: Turkey Pain Amps Up Pressure on Emerging-Market Bond Auctions
Since Joe Biden assumed the U.S. presidency, speculation has increased that he could impose tougher sanctions on Russia over the poisoning of opposition leader Alexey Navalny. Investors fear the "nuclear option" of restrictions on Russia's local sovereign debt, something the U.S. has avoided so far, for its potential to spark contagion in global markets.
At the same time, Russian officials have insisted they have the tools available to withstand tougher penalties. Andrey Kostin, the CEO of Russian state bank VTB, said last week that VTB and Sberbank PJSC could intervene to buy up bonds if the OFZ market were to be sanctioned.
"At current levels, OFZs are very interesting to Russian banks, who have a lot of liquidity," ProMeritum Investment Management LLP co-founder Pavel Mamai said by phone. The missed sale last week may have created pent-up demand, he said.
The yield on Russian 10-year ruble bonds dropped 8 basis points to 7.04% on Wednesday, trimming the jump over the quarter to 113 basis points. The ruble traded up 0.7% at 75.3250 per dollar, set for a 1.2% drop in the quarter.