Block Traders Build Big Treasuries Short in Futures Before Fed
(Bloomberg) -- Big footprints are being left in the U.S. bond futures market, where a large short position in the 5-year note contracts has been consistently added to over the past week, with the latest trade seen Tuesday.
Since last Monday almost 74,000 U.S. 5-year note futures have been sold over twelve separate block trades, equivalent to almost $4 million per basis point of cash risk. Over the same period open interest in the futures -- or the total amount of risk held by traders -- has increased by 88,321 contracts.
Futures block trades are known for being large, privately negotiated transactions which often appeal to asset managers who need to execute large positions with minimal price sensitivity. The latest block sale was seen Tuesday, a familiar size of 6,000 contracts timed at 3:50am New York: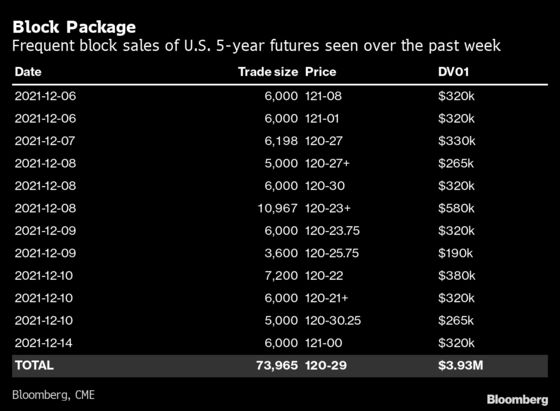 The timing of what appears to be a block sale program has drawn attention, as the big short has been steadily building ahead of Wednesday's Federal Reserve policy meeting, where the central bank looks poised to accelerate its bond tapering further. A doubling of the current pace starting in January would see purchases end by the ninth business day of March, leaving the door open for the commencement of subsequent rate hikes.
The belly of the Treasuries curve has been setting up accordingly, as 5-year yields have risen to around 1.23% currently, up from around 1.13% at the start of the month.