Blinded by Bad News, Investors May Miss South Africa Stock Rally
(Bloomberg) -- Investors blinkered by bad news from South Africa risk losing out on a stock rally, according to Standard Bank Group Ltd.
The country's benchmark stock index slumped 11 percent last year amid stagnant economic growth, a deteriorating fiscal environment and political upheaval, while the Federal Reserve's policy-tightening and concerns over the U.S.-China trade dispute also weighed on emerging-market stocks.
But equities are set for a recovery in 2019 as the economy gathers momentum, Standard Bank analysts including Chief Economist Elna Moolman said in their quarterly review of African markets, published on Friday.
Even after a 7.2 percent rally since mid-December, the FTSE JSE Africa All Share Index is still near its cheapest relative to emerging-market peers in almost seven years, according to data compiled by Bloomberg. That's too pessimistic, given a recovery in consumer spending, healthier household balance sheets and improving consumer confidence, the analysts said.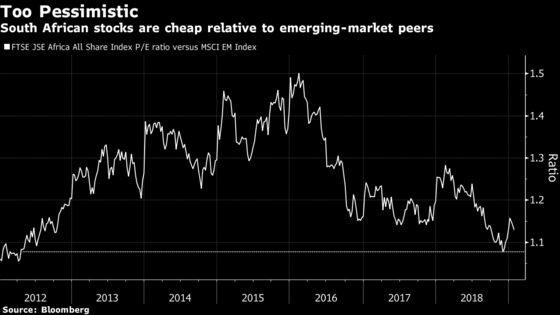 "A worst-case growth scenario is being priced into South African equities, and we believe this is overdone," the analysts said. "We remain constructive on the South African equity market outlook and believe that 2019 will usher in a higher growth path for South Africa."
Not everyone agrees. Foreign investors sold a net 53 billion rand ($3.9 billion) of South African equities last year and have dumped another 12.1 billion rand in January. The economy is forecast to grow just 1.5 percent in 2019 following last year's estimated 0.7 percent expansion. Investors are also concerned about President Cyril Ramaphosa's ability to implement much-needed reforms as an election looms in May.
"Growth-skeptical investors appear to be waiting for a real growth recovery," the Standard Bank analysts said. "Even factoring in investors' more pessimistic growth outlook, we believe the market is overly discounting bad news, having de-rated more in 2018 than during previous risk-off phases barring the global financial crisis and the 1998 Asian crisis."