BlackRock Sees Stock-Bond Correlation Deeply Negative This Year
(Bloomberg) -- Equities and bonds will head in different directions this year, offering insurance to stock investors, according to BlackRock Inc.
Correlation between the two asset classes dived into negative territory in late 2018 as Treasuries climbed while U.S. stocks tumbled. That reversed a pattern seen earlier in the year when both bonds and shares retreated, a phenomenon Goldman Sachs Group Inc. dubbed a "balanced bear" and one that had upended the traditional strategy of using bonds to hedge stocks.
"We see the correlation between equity and bond returns remaining significantly negative in 2019 as the economic cycle enters its latter stages," Richard Turnill, BlackRock's global chief investment strategist, wrote in a note to clients. "Bonds may offer a more formidable ballast to equity exposures."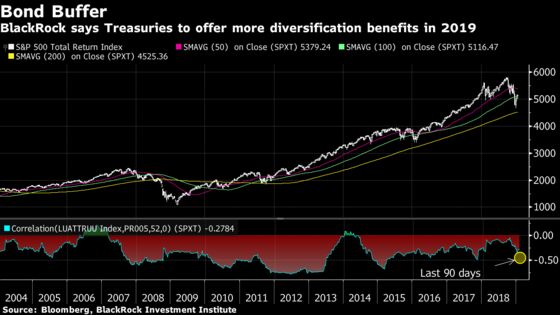 For both asset classes to tumble in unison, it would probably require a big pick-up in inflation that led to a more hawkish Federal Reserve, Turnill wrote. Economic data will be the dominant market driver, he concluded.
Illustrating the recent trend, the S&P 500 Total Return Index is down about 6 percent since the end of November, compared with a 2 percent gain in the Bloomberg Barclays U.S. Treasury equivalent.
Still, BlackRock has a neutral stance on U.S. Treasuries, judging that fears about economic weakness may be overdone from a short-term perspective. Investors should wait for a rise in yields before adding to positions, Turnill wrote.