BlackRock Downgrades U.S. Government Debt on Blue-Sweep Outlook
(Bloomberg) -- BlackRock Inc., the world's largest asset manager, is downgrading its views on U.S. government debt even as Treasuries retain their value as a haven amid Monday's stock-market selloff.
Worries about rising coronavirus cases weakening the global economy pushed the S&P 500 Index toward its biggest drop in a month. Treasuries advanced, sending 10- and 30-year yields down by around 5 basis points each, to 0.80% and 1.59%, respectively.
In a note released Monday by BlackRock's research arm, strategists cited the growing likelihood of significant fiscal expansion under a unified Democratic government. Such a scenario, in which Joe Biden wins the White House and his party takes control of both chambers of Congress, would bring forward the market pricing of higher inflation, they said.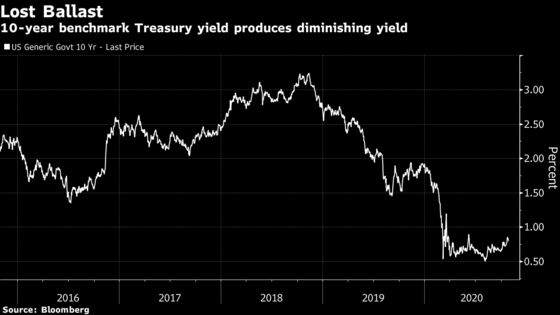 "This is why, tactically, we are downgrading nominal U.S. Treasuries and upgrading their inflation-linked peers," said strategists Mike Pyle, Scott Thiel and Beata Harasim, along with researcher Elga Bartsch.
New York-based BlackRock oversees $7.8 trillion, $2.5 trillion of which is in fixed-income assets. It joins a growing list of major firms, which includes Credit Suisse Group AG and Goldman Sachs Group Inc., that have weighed in during the past month with the prospects of a "blue sweep."
BlackRock changed its view by saying the strategic case for holding nominal government bonds has diminished with yields closer to "perceived lower bounds."
"Such low rates reduce the asset class's ability to act as ballast against equity market selloffs," the strategists wrote.
"We prefer inflation-linked bonds as we see risks of higher inflation in the medium term," they said. "On a tactical basis, we keep duration at neutral as unprecedented policy accommodation suppresses yields."
Earlier this year, the firm was buying Treasuries along with other assets being purchased by the Federal Reserve as part of a "follow-the-Fed" mantra.