Black, Hispanic Employment Improves in U.S. After Uneven Gains
(Bloomberg) -- The job market improved last month for Black and Hispanic workers, groups that have lagged in employment gains as the U.S. economy recovers from the pandemic.
The Black unemployment rate fell to 9.1% in May while the Hispanic rate dropped to 7.3%, according to the data from the Labor Department. More Latina women returned to the labor force and unemployment for Black men dipped below 10% for the first time since January, the data showed.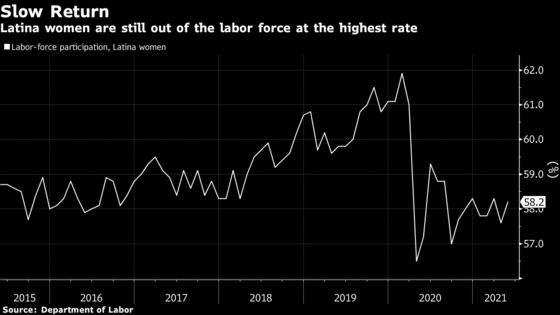 Still, both Black and Hispanic unemployment levels remain elevated compared to the overall jobless rate of 5.8% -- a sign that the recovery continues to be uneven for minority workers. Overall, more than half of all job gains last month were in the leisure and hospitality industry -- a sector hit hard by the pandemic that also employs a disproportionate number of minority workers.
Latina women over the age of 20 have seen the slowest return to the labor market since the start of the pandemic. Their labor-force participation rate, at 58.2% in May, is still significantly lower than before the pandemic.