Black Diamond's Cancer Drug May Be a 'Master Key,' Street Says
(Bloomberg) -- After doubling from a January debut, Black Diamond Therapeutics Inc. is drawing rave reviews from all four banks that are now giving the stock research coverage.
In contrast to some other closely-followed experimental new cancer medicines with very specific targets, this biotech's lead developmental medicine has a broader reach and may be a "master key" to unlock what were once thought to be "undruggable" cancer mutations, a Jefferies analyst said.
The treatment, known as BDTX-189 and designed to inhibit cancer-driving mutations of both epidermal growth factor receptor, or EGFR, and the tyrosine-protein kinase ErbB-2, or HER2, is expected to find early-stage testing in humans in the first half of this year.
Black Diamond has four new buys. Three are from the banks that aided in the drug developer's offering, which historically tend to offer friendlier reviews. The average price target of $48.50 implies a roughly 28% upside from Friday's close.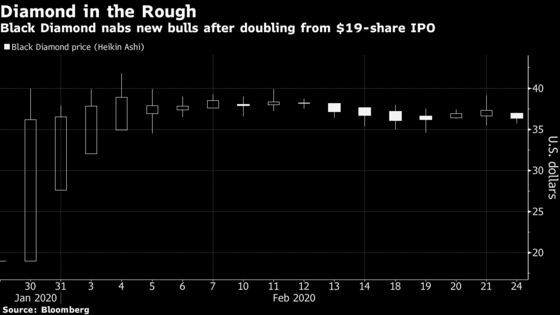 Jefferies, Maury Raycroft
Black Diamond's drug "has a higher chance of success" compared to other early-stage assets, as EGFR and HER2 are "well validated" cancer targets. Analyst expects the company could have a drug on the market by 2024.
The company is taking a "tumor agnostic approach," where BDTX-189 may work across cancers in different areas of the body.
Starts coverage at buy with a $47 price target.
"A sizeable number of mutation driven cancer cases lie outside the reach of the currently available targeted therapies. In our view, lead candidate BDTX-189 is differentiated in its potential to treat the ~2-3% solid tumor cases overall harboring activating allosteric mutations of HER2, while having best-in-class potential in the more broadly understood exon 20 insertion mutation lung cancer opportunity."
Black Diamond's over $1.36 billion market valuation "likely reflects a healthy level of optimism" for a new medicine still in early stage testing, but based on preclinical and competitor data, JPMorgan has "higher than Street-implied success assumptions for BDTX-189."
Analyst sees trial design as "balanced for the relatively de-risked indications," while also offering the option for a broader, tumor-agnostic label.
Coverage of Black Diamond started at overweight with a $42 price target.
BDTX-189 viewed as having a "superior profile and thus a high probability of success" that could support roughly $2 billion in global annual sales.
"Preclinical data indicate Black Diamond's lead molecule, BDTX-189 has superior potency and selectivity compared to predecessor molecules such as Puma's neratinib and Spectrum's poziotinib that have generated responses but failed to demonstrate robust efficacy."
Started coverage at outperform.
Black Diamond started at buy with the Street-high price target of $50.