Bitcoin Volatility Set for Comeback After Trading Turned Boring
(Bloomberg) -- Volatility could soon be back in vogue for Bitcoin.
One technical gauge is showing dramatic price swings for the digital token may be primed for a return: the difference between Bitcoin's upper and lower band in the Trading Envelope indicator is at its narrowest since mid-September. The gauge smooths moving averages to map out higher and lower limits and a similar narrowing last month preceded a drop of more than 12% for Bitcoin on Sept. 24.
In addition, Bitcoin closed below its opening price in six of the last seven trading sessions. The last time it exhibited that pattern -- in mid-September -- it lost about 20% in one week.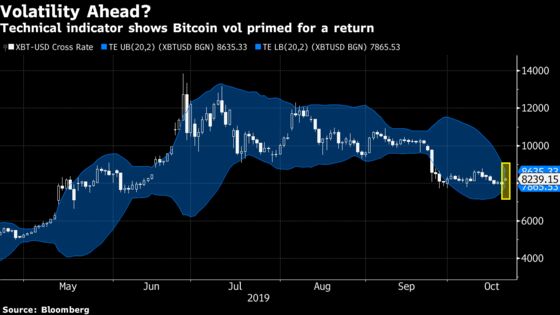 Bitcoin has been hovering around the $8,000 level over the past month amid a surge of negative news that's weighed on the rest of the digital currencies market as well. High-profile companies, including Visa Inc. and Mastercard Inc., have withdrawn their support for Facebook Inc.'s plan to launch a global cryptocurrency called Libra. U.S. regulators have also raised objections -- the social media giant's chief executive, Mark Zuckerberg, is set to testify before Congress this week as the company struggles to persuade lawmakers that its project is a sound one.
"As it becomes more and more obvious that the Libra thing is not going to take off -- it's going to be a long time before it becomes an important part of anything Facebook's doing -- as that becomes more obvious, the volatility will pick up again," Matt Maley, equity strategist at Miller Tabak + Co., said by phone. "This issue with what's going on with Libra and Facebook is a definite headwind and it's not going to go away."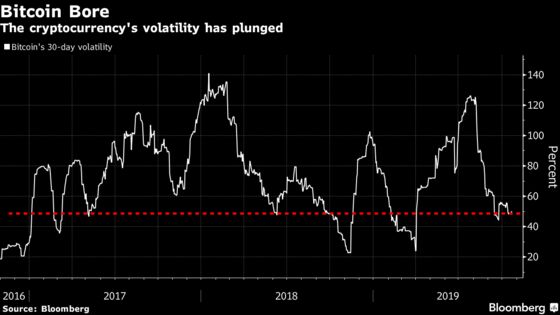 The Federal Reserve has weighed in on Libra, too. In remarks last week, Fed Governor Lael Brainard said that any global stablecoin "should be expected to meet a high threshold of legal and regulatory safeguards."
"Brainard's comments taken as a whole reflect an extremely cautious approach to stablecoins and the notion of central bank-sponsored online currencies," Nicholas Colas, co-founder of DataTrek Research, wrote in a note last week. "That makes sense: The Federal Reserve backs the world's reserve currency and has little incentive to put that title at risk with untested technologies."
Bitcoin has dropped about 2% over the last week. Peer coins, including Litecoin and Ether, are down 2.8% and 5%, respectively.