Bitcoin Tries and Fails to Meaningfully Break Through $9,500
(Bloomberg) -- Despite its recent gains in the wake of the coronavirus outbreak, Bitcoin's having a hard time breaching through a key technical level.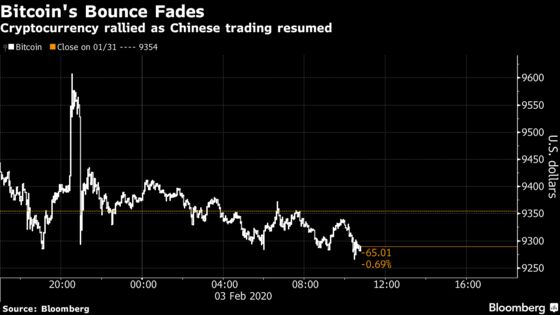 Although it's grazed $9,500 at least three times over the past three trading days and at one point touched $9,600 before retreating, the largest cryptocurrency is struggling to meaningfully break free. In addition, Bitcoin's GTI Global Strength Indicator, which measures upward and downward movements of successive closing prices, shows the coin is in overbought territory near the level of its last dip which occurred in mid-January.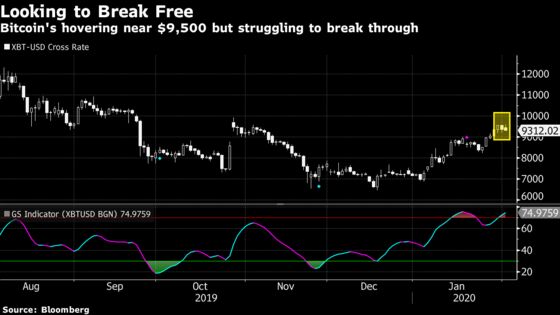 Cryptocurrencies have gained in recent days as fear spread that the coronavirus outbreak that originated in China will dent global growth. Some analysts are speculating that crypto investors are gravitating toward Bitcoin and other digital assets seeking haven as the number of infections skyrockets and anxiety swirls.
"The ongoing upward trajectory of the price of Bitcoin correlates to the spread of the coronavirus," said Nigel Green, chief executive officer and founder of deVere Group. "Bitcoin's price is likely to continue to rise until the coronavirus peaks," he said, adding that it will probably happen in late April or early May.
On Monday, China's stock markets opened for the first time following a prolonged shuttering in the wake of the Lunar New Year holiday. A gauge of the nation's stocks plunged near 8% and the yuan weakened past a key level against the dollar. At the same time, the price of Bitcoin surged above $9,600 only to quickly reverse course.
Bitcoin is down 0.8% as of 11:07 a.m. in New York and is trading around $9,276. The Bloomberg Galaxy Crypto Index, which tracks some of the major cryptocurrencies, is up 2.4% after gaining as much as 6.3%.