Bitcoin Tests $7,500 as Crypto Tokens Rally Back to June Levels
(Bloomberg) -- Cryptocurrencies extended their rally on Wednesday, with Bitcoin breaking above $7,500 for the first time since June as the market seeks to shrug off some of the security and regulatory concerns that have plagued it for much of the year.
Wednesday's rebound was broad. The MVIS CryptoCompare Digital Assets 10 Index, comprising the 10 biggest, most liquid coins, rose as much as 11 percent, before paring its gain to 8.2 percent as of 7:55 a.m. in New York.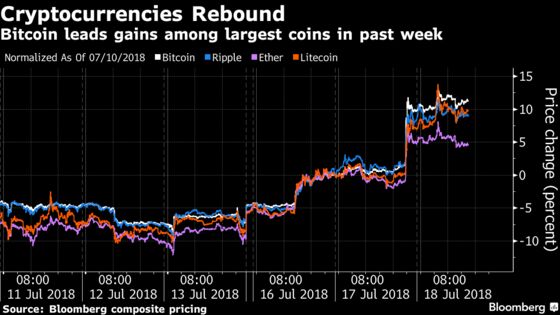 Bitcoin, the largest digital asset, was 1.4 percent higher, according to Bloomberg composite pricing. Rival tokens including Ripple, Ether and Litecoin were mixed but held most of their gains from Tuesday. Despite the advance, Bitcoin remains more than 60 percent below the all-time high posted in December.
Recent gains will be a welcome relief for crypto bulls. Prices have repeatedly come under pressure this year as regulators around the world heightened scrutiny or even outlawed dealings with the nascent industry, which at the same time grappled with a series of hackings at exchanges, including a $500 million heist in Japan earlier this year.
"Markets have been reacting to a number of positive pieces of news, mostly circling around big names such as BlackRock," Ryan Rabaglia, head trader with cryptocurrency dealing firm Octagon Strategy Ltd. in Hong Kong, said in an email. "With any indication of institutional interest in this space comes positive price action, even if it's unclear in nature. The market just eats it up."
A report Sunday said that a BlackRock Inc. team was examining whether the manager of $6.3 trillion of assets should invest in Bitcoin futures. While a BlackRock spokeswoman declined to comment on its current thinking, CEO Larry Fink later downplayed speculation in an interview with Bloomberg Television.
In the latest suspicion of fraud, white-collar prosecutors in Austria started probing a local operator of crypto ATMs, daily newspaper Der Standard reported Wednesday. Emails to the company, Cointed Ltd., seeking comment went unanswered.
Rabaglia also highlighted a Financial Stability Board report to the Group-of-20 countries Monday on global regulators' work on crypto-assets. The FSB and other regulators may force banks to meet new capital requirements for their holdings of Bitcoin and other crypto-assets. The FSB also said crypto-assets don't currently threaten the financial system.
"Government agencies reporting in any way that is not deemed negative is another feather in the cap," Rabaglia said. "Once again, crypto markets are here to stay."