Bitcoin's Slide Extends for Fourth Day as Risk Aversion Surges
(Bloomberg) -- Bitcoin tumbled as much as 18% with risk aversion the dominant theme across asset classes amid the coronavirus outbreak.
The largest cryptocurrency was down 7.5% to $5,026 as of 12:45 p.m. in New York, after dropping as low as $4,442, according to Bloomberg data. It has slumped about 55% from the $10,500 high for the year set Feb. 13. Other alt coins tumbled, with Ether down about 12% and Litecoin off more than 8% on Monday.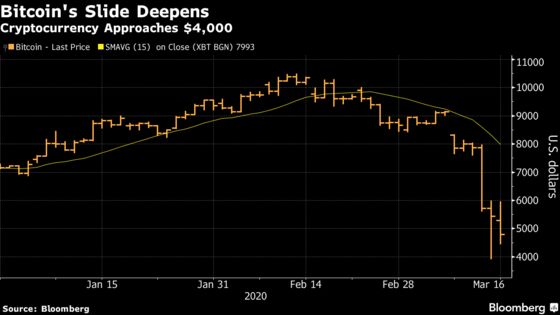 Monday's rout extends the recent crypto sell-off into a second week and comes as stock gauges globally plunge into bear markets amid the coronavirus crisis. The outbreak has spread to more than 3,000 Americans and has ground activity in Europe to a virtual standstill.
"Despite the massive sell-off, Bitcoin's price has still failed to attract investors. This is because the price is likely to drop even more," said Naeem Aslam, chief market analyst at AvaTrade. "For me, anything below $3,500 is very attractive. It is likely that the price may drop to that level."
Technical gauges suggests that Bitcoin appears primed to retest the recent lows of $4,000. If that level is broken, a retest of late 2018 and early 2019 lows is seen possible.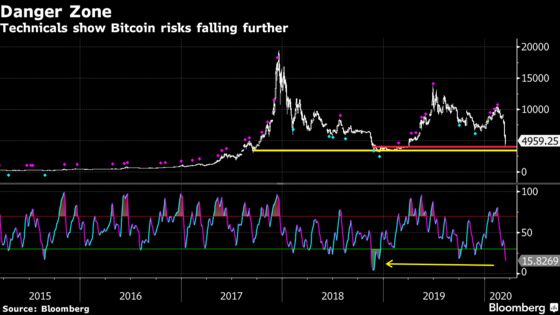 One technical indicator, the GTI Global Strength Indicator, is already in oversold territory, having fallen below the 30 threshold that signifies that condition. However, it is still above the level marked during 2018 and 2019 lows, indicating there may be more pain to come.
Here's what other market-watchers are saying:
Christel Quek, chief commercial officer and co-founder at Bolt Global:
"Bitcoin back in free fall after Fed cuts its benchmark rates," she said. "With investors increasingly entering the crypto space as portfolio diversification, the crypto market has started to emulate equities. Hence the current dip."
Denis Vinokourov, head of research at Bequant, a London-based digital asset firm:
"Crypto maximalists will likely call the latest move by the Fed as another round of 'silly money' but, putting emotion aside, no one wants to be remembered as the one that stood by and did nothing. After all, when was the last time that an entire country (or multiple countries) closed their borders in reaction to a global pandemic? Similarly to the crisis in 2008, the market is facing yet another liquidity crunch scenario and, yes, there is an argument to be made that all this liquidity upon liquidity that the Fed has introduced since then, has only made the system that much more reliant on the Fed's constant bailouts and further cash injections," said Vinokourov. "Cryptocurrency and digital asset markets are screaming liquidity crunch."
Chris Bendiksen, head of research at CoinShares Group:
"While many in the Bitcoin industry have been hailing Bitcoin as a new safe haven asset, at this point it seems clear that proponents of this status have probably gotten a bit ahead of themselves. To be clear, this does not mean that Bitcoin is somehow forever barred from attaining such status, but it seems clear that this status has yet to be established," said Bendiksen. "There are only so many holders of gold, or Bitcoin for that matter, whose positions are heavily intertwined with traditional markets. When these sellers run out, prices will likely stabilize while the calamity could continue in other markets as financial contagion takes proper hold."