Bitcoin Hits Resistance After Corona Induced Wild Price Swings
(Bloomberg) -- Bitcoin's recent surge risks running out of steam after bouncing off a level watched by analysts who use price charts to predict future movements.
The world's largest cryptocurrency tested $9,500 for a third consecutive day on Friday before falling back. Further gains may be unlikely with the Relative Strength Index -- which indicates momentum by measuring the speed and change of price movements -- standing at 72. Anything above 70 signals that the coin has been overbought, the chartist say.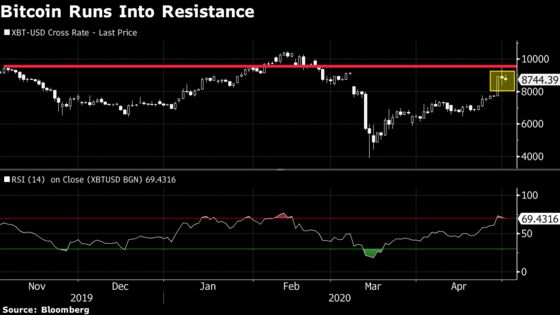 The last time RSI was this high, Bitcoin dropped from $10,500 to $3,900 between February and March as the coronavirus weighed on most asset classes. Bitcoin rebounded 36% in April. The token was down 1.6% to $8,688 as of 12:38 p.m. in New York.
Investors have been hoping for another bull run in anticipation of the so-called Bitcoin halving this month. The halvings, when coins issued as rewards to computers that support Bitcoin's network are reduced, happen about every four years, and the prior halvings coincided with rallies. However, many analysts say that the halving, since it's been known of in advance, has already been priced in.
"I don't expect the halvening to be a significant event in terms of real activity," said Bitcoin investor Aaron Brown, who writes for Bloomberg Prophets.