Bitcoin Bulls Wonder Where's the Bottom as Volatility Returns
(Bloomberg) -- Bitcoin advocates are asking how low will we go from here as the world's largest cryptocurrency continued to slump following its biggest one-day loss in eight months.
The digital token fell as much as 6.3 percent to $5,202, having plunged through a key resistance level Wednesday after a period of relative tranquility. Many of Bitcoin's closest peers also slid Thursday, while Bitcoin Cash, which splits today into two coins, was down as much as 15 percent.
"The movement we saw today seemed to be the run-of-the-mill volatility surrounding Bitcoin and a breakout that's been weeks coming," said Mati Greenspan, senior market analyst in London at eToro. "It's difficult to say where it ends. No one can really predict."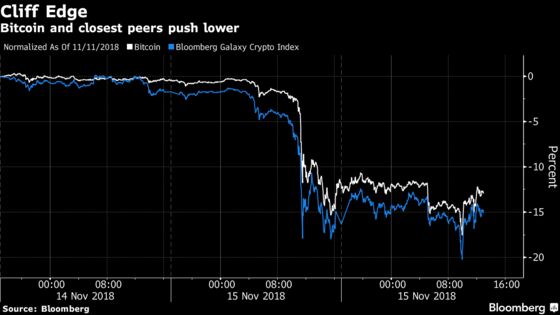 As the dust settled a day after the Bloomberg Galaxy Crypto Index's 15 percent tumble, speculation over its causes includes today's debut of the new version of Bitcoin Cash. Traders are mulling whether the coin, which itself broke off the original Bitcoin in 2017, is sucking investment and miners away from the largest crypto.
The plunge disrupted a trend of lower daily spikes and selloffs for cryptocurrencies, often criticized in financial markets as being too unstable for use as in investment or as a currency. Only a week ago, Bitcoin's 30-day volatility had dropped to 21.2, below that of the Standard & Poor's 500 index for the first time in two years, according to prices compiled by Bitstamp.
"The Bitcoin Cash hard fork is proving far more destabilizing than initially thought as numerous competing factions muddy the landscape," Stephen Innes, head of trading for Asia Pacific as Oanda Corp., said in a note.
Oanda's Innes said the disruption over the new Bitcoin Cash fork has created too much "noise" that triggered a "when in doubt get out´´ cause and effect. He said an eventual break below $5,000 for Bitcoin "opens the door to a test of $2,500 as Bitcoin retail traders move from buying on dip to full-out panic mode."
Other technical measures suggest main pain ahead. The DMI, or Directional Movement Index is at its largest negative reading since 2016.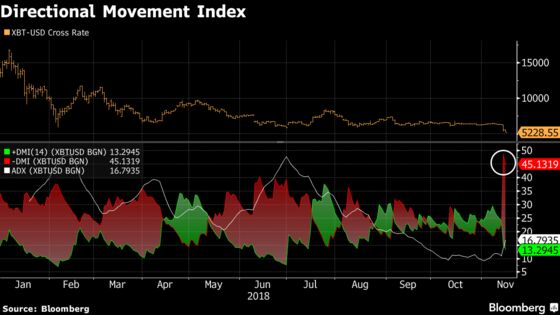 Some skeptics warn that this may only be the beginning.
"I think the bottom for Bitcoin is zero and that's where it's heading," said Peter Mallouk, president and co-chief investment officer of Creative Planning, which manages around $36 billion in assets. "Everything about Bitcoin is speculation or fraud."